The iOS 11 developer beta became officially available a few weeks back. The developer beta version of iOS 11 is essentially for Apple developers. Thankfully, a regular iOS user can get same developer OS version on their iPad and iPhone devices.
However, it's strictly advisable that you get the developer version of iOS on a phone you wouldn't consider as a main phone.
The iOS developer beta 2 was released a few days back. Hopefully, the first public beta should be available in a few days from now.
Thankfully, the new Apple OS for iPhones and iPads supports the 3 year old iPhone 6. I installed the developer beta version on the iPhone 6 and just a few days back, I updated to the developer beta 2.
The developer beta 2 version of iOS 11 brings about quite a handful of bug fixes and improvements. All these, I'd talking about in a bit.
Installing and Using iOS 11 developer beta On iPhone
Deciding on installing iOS 11 developer beta on the iPhone 6 wasn't an easy one. But for the love of Tech, experimentation (and you), I had to take the risk.
The OS brought about quite a handful of features. Some of the easily notable ones were;
The famous cycles which signifies network strength being changed to bars.
Fingerprint unlocks faster.
A redesigned control panel.
A redesigned App Store
Ability to control the velocity of the torch from the control panel.
Emergency SOS being introduced.
A redesigned notification tray.
Being able to easily take and edit screenshots.
A much sleek looking dial pad.
A much sleek looking calculator.
File manager now included
iPhone Storage menu.
Shut Down option also introduced.
Now, let's talk more on some of these newly introduced features. Shall we?
Network Strength icon
One of the quickest way to tell an iPhone from a screenshot is the cycle network bars. That's been famous with Apple devices since inception (I think).
However, with iOS 11, that has been changed to bars. Traditional networks bars, I might add.
Personally, it was pretty very easy to notice this. I am wondering why Apple decided to change that though.
Fingerprint Unlocks Faster
I kinda think the phone now unlocks faster with iOS 11. However, this could be as a result of the unlock transition being removed or made super faster that you almost wouldn't notice the transition.
A Redesigned Control Panel
This is perhaps, one of the highlights of the new OS. Swapping the screen from the bottom upwards, you'd find the new redesigned control panel.
The control panel looks more beautiful. More so, you can customize the features present on the control panel via the control panel settings under general.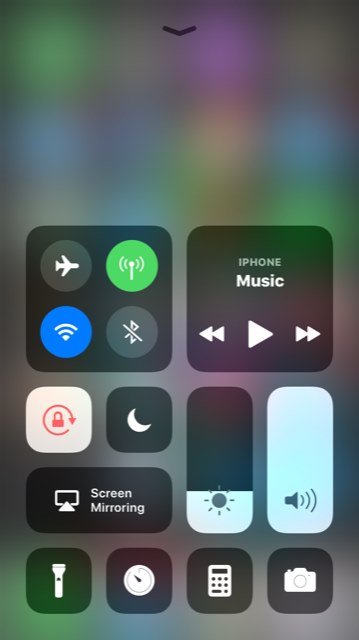 By default, the control panel houses the function to Turn Airplane mode on / off. There in, you can also turn on/off Wi-Fi and cellular data. The Bluetooth switch icon is also present there. There is also the quick music navigator, screen rotation lock, back-light, Do-Not-Disturb and volume controls.
Others would be the torch feature, clock, calculator, Screen mirroring and camera.
Long pressing on most of the feature present there, you can further control them. For example, long pressing on the torch, you can control the level of light the torch transmits. Same applies to the back-light and volume controls.
You can easily activate more features on most of the functionalities under the control panel by simply long pressing on them. Kinda feels like 3D touch.
Emergency SOS
Apple cares about you. They understand no one is above being endangered. And for that reason, they've introduced emergency SOS features. When activated, a number preset by the user is automatically dialed when emergency is needed. The location will also be sent in other to facilitate being reached on time.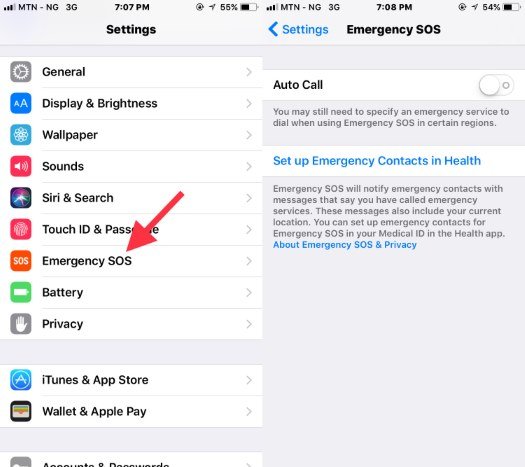 To activate this, the user needs to go to Settings > Emergency SOS.
A redesigned Notification tray
Personally, Apple made things a little more complicated with this. Somehow, I prefer the former to the latter.
The new notification tray utilizes your lock screen wallpaper rather than a blurred background. That's not even the ish. My problem with the new notification tray is being unable to remove specific notifications.
By this, I mean, I can't seem to clear / remove a particular notification or set of notifications without having to clear all notifications for a particular day.
Sure, you can now easily reply messages and literally every form of notification that kinda requires a reply via the notification tray.
However, being able to clear some specific notifications instead of all at once like old times would have been really nice.
Easily take and edit screenshots
This is particularly my favorite. The method of taking screenshots on iOS hasn't changed. What's new however, is the ability to quickly edit screenshots right from the same screen before saving them.
Remember the post where I shared some iPhone tricks? I used the iPhone new feature in editing most parts of the screenshots.
With the new edit screen shot feature on iOS 11, you can add arrows, lines, magnifier, texts, signatures and more to screenshots before eventually choosing to save them.
You can also take multiple screenshots at a time and seamlessly edit them together before saving. Really handy for me.
File Manager
This is the first time a file manager will be introduced on iPhone. I haven't been explored this part, hence, there's not much I can say right now regarding that.
iPhone Storage Menu
On the iPhone Storage menu, users can better see how much size their device has consumed.
More so, there are some recommended optimization tips being displayed under the iPhone Storage menu.
Shut Down Option Also Introduced
I am not so sure if this option will be making it to the public beta or final version, but it's nice to have it on the developer version of iOS developer beta.
Feeling too lazy to press and hold the power button, you can simply turn off the device by the tap on a button.
The shut down option is found among the options in General under settings.
Few Issues Encountered With iOS 11 Developer Beta
Now to the not so good part of installing iOS beta on iPhone 6, some of the few issues I had were;
Siri not working
Siri wasn't exactly working at the time I had the first version of beta running on the phone. Pressing and holding the home button, Siri would launch but wouldn't do anything.
The first version of iOS 11 Beta Lags
Although it worked okay on the device, I noticed the OS lagged a bit.
Seamlessly switching between apps wouldn't work at some point. You'd possibly have to launch the app each time instead of simply double tapping the home button and switching to another open app.
SMS Messages Were Not Delivering
This was my major concern. I can't explain how the OS affected the SMS functionality but whenever I sent a text message, it will be declared as sent, I will even be debited but it won't get to the recipient.
I sent a couple of messages to different contacts on different networks. They often complained they didn't get the message. In a bid to confirming this, I sent a message to another number of mine and although it stated sent on the phone, I never received any message.
The iOS 11 Developer Beta 2 Is a Life Saver, sort of.
Upon upgrading the iPhone 6 operating system to iOS 11 developer beta 2, most of the issues I had with the earlier beta has been fixed.
Seamlessly switching between apps now works, I haven't noticed any lagging. SMS messages being sent are now delivering.
Siri now also works. Not only Does Siri works, the AI can now also translate words into other languages. Additionally, you can type to siri. This is useful if you don't have or can't form that American or British accent.
Quite a handful of other adjustments have been made. The most noticeable addition with the beta 2, would be with the control panel.
The music navigator on the control panel now shows the last source of the media you played. If no file has been played, it'd display 'IPHONE MUSIC' (as seen in the second screenshot above).
The Mobile banking Mobile banking app still isn't going past the login window on the new OS. However, thanks to the recently launched GTWorld. That works flawlessly.
The battery on the new developer beta 2 is also affected. Although it wasn't great in the first version, it seems worse in the second. Hopefully, it'd be fixed in subsequent updates.
So, that's it guys. That's all (or most notable) features of the iOS 11 developer beta 1 and beta 2 you should expect on your iPhone 6. That is if you haven't upgraded yours yet.
The first public beta should hopefully be out in the next few days. Hopefully by then, I'd keep you informed with what's new with iOS 11 on iPhone 6.