The Xiaomi Mi TV Box is Xiaomi's offering at the Android TV box Market.
In today's world, the need for an android TV box cannot be overemphasize.
I've had the Mi Box for quite a while now, precisely about a month or so. Although it took too long than expected, the Xiaomi Mi TV Box review is finally here.
Xiaomi Mi Box Unboxing
Precisely the same day I got the device, I unboxed it and even shared a quick set up guide.
Although I didn't share that on this particular blog, I did on my YouTube channel. If you are not subscribed to my YouTube channel, please do so here.
That way, you'd get to see more tech videos before they are shared on this blog (if ever).
If you'd be interested in the unboxing video and quick set up guide, here you go!
What's inside the box?
Upon opening the box, the first thing you'd see is the Mi Box itself. Other contents in the box includes;
1 HDMI cable
A Remote Control
1 Charger
Manuals
Having cleared that out-of-the-way, let's move to the review proper.
Xiaomi Mi TV Box Review
Based on first impressions, this guy looks really portable and small. Smaller than I anticipated.
It's around the same size as my palm. Yes, that's how small it is. It could fit into a pocket and no one would know you are carrying a TV box around.
In terms of weight, it weighs around 176.5g. That's around the same weight with some android smart phones in the market today.
At the back of Mi Box, you'd find the charging port, the USB port, the HDMI port and the 3.5mm jack.
Having used the Mi box for over a month, I'd be stating the things I like and the things I do not like about the device. I'd term it as beautiful and ugly.
Xiaomi Mi TV Box – The Beautiful
The Design
Starting off in regards the things I like about the Mi box, is the design.
As earlier mention, it's really small and weighs as much as a smart phone does.
Other than that, it does look premium. The design element speaks premium compared to other regular android Boxes you'd find in the market.
On a scale of 1 to 10, I'd give the Mi box a 8 in terms of design.
User Interface
The User Interface on this guy is pretty fluid.
The regular TV boxes often come with a much simpler android UI which can be considered as boring. However, that on the Xiaomi Mi box appears sleeker, feels sleeker and is obviously more interesting play around with.
On the home screen, you'd find some recommended videos from YouTube and other video screaming apps you have installed. I'm not sure what algorithm is being used, it's always there for your viewing pleasure.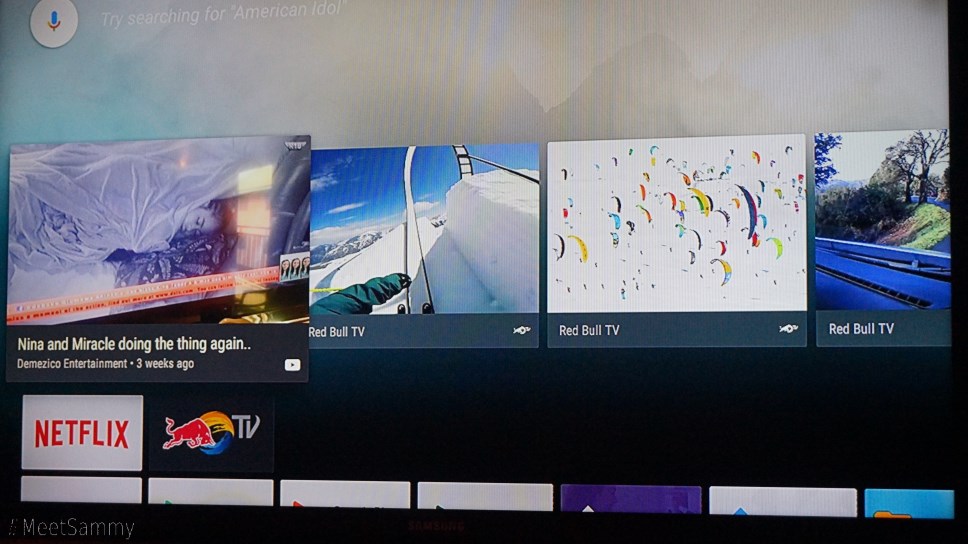 Beneath that, you'd find some apps Mi Box recommends. This I believe, differs based on your location.
Based on the location I'm in, no much recommendation is presented.
Just beneath that, is the apps session. These are basically apps you downloaded from the Google play store app on the Mi box.
Apps downloaded from an external source won't be displayed here. This, I sorta have a problem with.
The interesting thing about this is, if you are not comfortable with the default app placements, you can rearrange them. That way, you can make your favorite apps appear first.
Just beneath the apps session, is the settings and WiFi options.
Yes, the Mi Box only utilizes WiFi as a means of internet connection. Setting up WiFi is very easy. I showed how to go through that in the initial set up guide which you can watch in the video above.
The Remote Control
Unlike most traditional android TV boxes with wireless or infrared remote controls, the Mi box comes equipped with Bluetooth remote control.
With the Bluetooth remote control, you do not necessarily need to have the remote control positioned towards the box before it works.
Of course, having the remote close to the TV box is necessary at first initiation. In subsequent times, it needs not to.
You can even stay a distant from your TV box and still be able to control it.
If for some reason, you do not want to use the remote control that comes with this box, you can use your phone.
How?
The Android TV app works flawlessly with the Xiaomi Mi TV box.
Basically every control on the default remote, can be achieved on the app. However, both the android phone and the Xiaomi Mi box needs to be connected to the same WiFi for this to work.
There are no much functions on the remote control.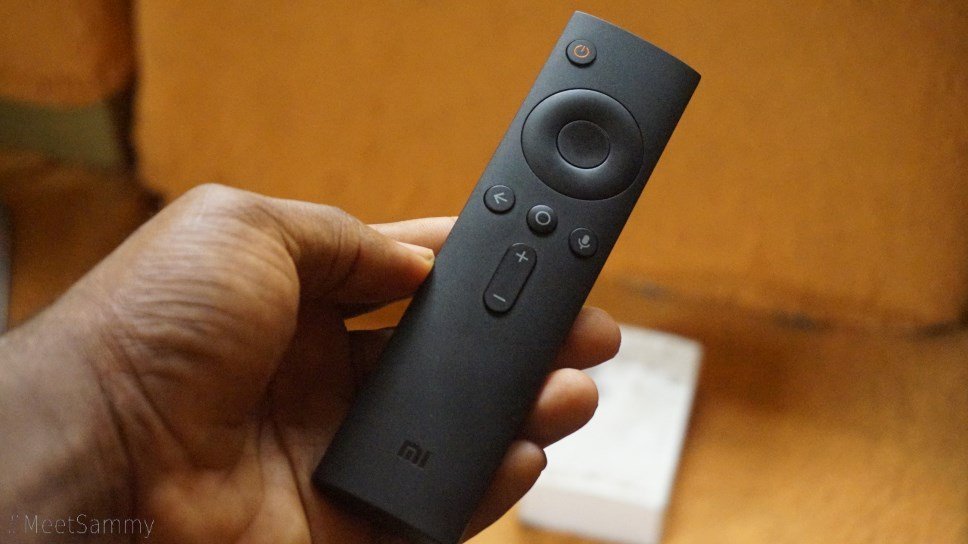 You basically have the power button, the 4 directional button (even if it appears round), the back button, the home button, voice and volume controls.
I particularly love the voice button. This allows me to make a quick search through speaking to the remote rather than typing.
While I've always not been a fan of voice searches as mistakes often happen due to intonation, it's interesting to note that the voice search on the Xiaomi Mi TV box is accurate 95% of the time. Yes, it's that accurate.
Even for long tail searches, the remote is able to fully read my voice and have it displayed on the Mi box appropriately. This is something you'd most likely fall in love with too.
System Operation
This guy is powered by a Quad core processor clocked at 2GB RAM. Over the weeks of usage, I have never experienced a lag during course of operation.
Often at times, I run vital movie streaming apps like Kodi, Stremio and a few others. They all work fine.
Display
The display on this guy is really good and appears really crispy.
Depending on the display resolution of your TV, you can switch the Mi box resolution from SD (480p-60hz) to FHD (1080p-60hz).
While my TV supports FHD resolution, I find myself using the 720p-60hz (HD) resolution and this still presents a really good resolution.
There is also the option to turn on or off, the deep color mode and the option to auto switch to best resolution.
The device also comes with Google cast built-in. This, I haven't tried nor felt the need to.
Having stated the things I like about the device, let's talk about the dislikes. After all, everything with an advantage, has got a disadvantage, right?
Xiaomi Mi Box Review – The Ugly
No dedicated Micro SD Card Slot
Starting off for me in this regards, would have to be the storage space.
By default, the Mi Box ships with 8GB internal storage space. With a few apps being downloaded, that can drop down to 5GB.
If you are the type who enjoys saving movies on your machine, 5GB might not be a lot.
Of course, there's an option for the use of Micro SD cards. For this however, you will need a card reader as the device does not come with a dedicated micro SD card slot.
Most android TV comes with this functionality.
The Mi Box only has one USB storage port. Meaning, you cannot use an SD card reader and a mouse together.
What do you need a mouse for? You'd find out in a bit.
App Compatibility Issues
Most vital apps like Netflix and other major Apps does work flawlessly.
Even Kodi does too. I mean, no problems with those.
But, how about others? Likes of Showbox, bobby-movie and even our very own irokoTV app?
Of course, showbox and bobbymovie cannot be downloaded from the app store. Some of us however, consider these apps very useful as it allows us watch TV shows and movies for free.
Thankfully, these apps can be downloaded externally. Now, while the showbox app could be installed and launched, bobby-movie doesn't seem to work.
I even downloaded the bobbymovie app specifically for android TV boxes and that didn't work either.
Irokotv app on the other hand, installed, launched but couldn't be used. These apps automatically kept closing.
Read More: How To Download, Watch IrokoTV App Movies and TV Series On Television
Of course, likes of Netflix, crack, iflix and a host of others specifically available on play store for TV boxes, works properly.
For the showbox app and perhaps, a few others that wasn't specifically built for android TV box, you'd most likely need a mouse. That is, if the app happens to install and launch properly on the android TV box.
The mouse is useful for easy navigation. Especially in cases where you need to access the navigation menus on those apps.
The mouse is also useful when you need to get into some options on the app. These options the default navigation buttons cannot reach.
Again, this is optional. If you intend sticking to the usual popular movie and TV shows streaming apps like Netflix, iflex, YouTube and the rest, you definitely do not need a mouse.
If however, you want more for even free, definitely consider using a mouse.
Wrapping Up
The Xiaomi Mi TV Box is definitely a home accessory I'd recommend. Especially if you are looking for something simple yet beautiful and classy to associate with your Television set.
The User Interface is sure to add some life to the experience and if you just need something pretty basic with all the basic features you need, this comes highly recommended.
That's basically it. That's my full review of the Xiaomi Mi TV box.
I got this unit from gearbest. You can get it using the buy button below.
Skeptical about buying from gearbest? They are reliable. I've often bought products from them and you can read all my experience about the online shopping platform here.
If you feel I missed anything in this review, please draw my attention to it using the comment session and I will update the post accordingly.