Malwarebytes Security is a mobile antivirus with even its free version being quite sufficient. And its PRO version offers more capabilities.
For a lot of people antivirus software Malwarebytes for Windows is well-known. In addition to desktop, it also has a mobile version which will protect your phone or tablet running under Android. The types of threats it can detect: from malware, adware and Trojans to worms and keyloggers.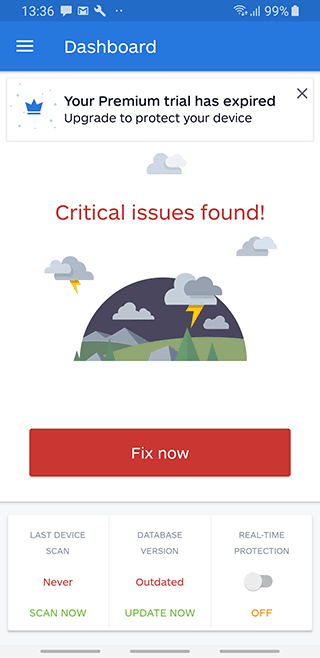 Further, we're going to look at the capabilities of the mobile version of this antivirus and highlight the most important ones.
You can download the app from Google Play (both free and PRO versions of the product).
Does your phone have a virus? Check it! 
The main features of Malwarebytes mobile version
Antivirus Malwarebytes offers the following features:
detection of

adware

and malware on your mobile device; 

safe removal of dangerous apps and files to Quarantine;

check of the permissions of installed apps (for example, you can find out which of them control your calls or track your location);

Anti-phishing: checking whether the links you follow poses any danger (this can be done not only in a browser, but also in such messengers as WhatsApp, as well as incoming messages);

blocking ransomware before it locks your mobile device.
Comparing free and PRO versions of this antivirus
Malwarebytes app is available in a free version which can scan your device and remove malware from it, as well as check the permissions of installed programs.
The PRO version of Malwarebytes antivirus: 
is completely free of charge for 30 days;

has a real-time protection system;

checks the safety of visited websites and links.
The annual subscription fee of Malwarebytes is $47.99. 
Counterparts of this antivirus
If for any reason you're dissatisfied with Malwarebytes antivirus or it's incompatible with your mobile device, take a look at the following counterparts:
Dr.Web Light

. An antivirus with comparable capabilities. It scans your phone, finds malware on it and removes it to Quarantine. Its special algorithm helps to find even the viruses that are missing in Dr.Web database.

Mobile Security & Antivirus

by Eset. It quickly detects malware, protects you from visiting dangerous websites and has the feature of "Anti-Theft".

AVG Antivirus

. Apart from protecting you from viruses, it can also check the security of Wi-Fi networks and block unwanted programs before they're launched.
The pros and cons of Malwarebytes (according to users' reviews)
The reviews on this antivirus are mostly positive. Its users point out that Malwarebytes perfectly copes with detecting Trojans, adware and viruses, moreover sometimes this app is even more successful than its counterparts. 
Among the main disadvantages are false alarms occurring from time to time (for example, the antivirus can take an enabled NFC for virus), as well as not the most user-friendly interface and the fact that some of the features previously available in the app free version have been transferred to the PRO version.