With the new iOS 11, it's safe to say the iPhone and iPad isn't all that boring after all. Of course, the major limitations like being able to download music or video files is still present on the platform.
Also being able to do other interesting things like changing fonts is also not available on iOS. Something literally every android phone can implement.
However, for a while now, most iOS users have always wondered how to activate dark mode theme on their iPhones or iPads.
Before now, this could be achieved via jail-breaking and downloading an app from cydia. However, with the new iOS 11, activating a dark mode theme on iPhone or an iPad does not require jailbreak privilege.
The process is pretty simple and that's exactly what we are gonna be covering here.
Activate Dark Mode Theme On iPhone or iPad Running iOS 11
Without rumbling too much around words, let's just hit the hammer on the nail.
Activating Dark Mode Theme On iPhone
On iPhone running iOS 11, go to Settings > General
Under General, go to Accessibility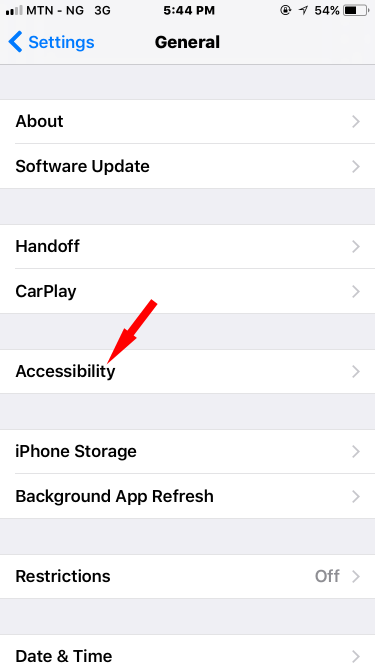 Under the accessibility options, tap on Display Accommodations
Thereafter, tap on invert colors.
Toggle Smart Invert On. And the dark mode theme will be activated.
On An iPad Running iOS 11
The process is really similar. Nothing different.
Just follow same process of going to

Settings

Tapping On

General

, thereafter, tap on

Accessibility

Under the accessibility options, tap on

Display Accommodation

and thereafter, tap on

Invert colors

and toggle

Smart Invert On

.
Some Things To Note With The iOS 11 Dark Mode
The smart invert color typically reverses the colors of the display, except for images, media and some apps that use dark color styles.
What this means is, your images and media apps will retain their colors. Which is a good thing. However, your experience with apps that doesn't use dark color style will be affected.
For example, your experience with Facebook will be affected. Affected in a way that, pictures you view on the Facebook app will be displayed invert style(dark mode). In simple term, pictures will be displayed in negative style.
Most essential apps on the app store do not have dark style mode in place. Even WhatsApp doesn't currently have that.
Hence, if you often use apps. Apps that you often check out images on, you probably should stick with turning off the smart invert mode. That feature isn't ready yet. Not until it excludes it's inverted color feature entirely on apps.
What do you think? Is the dark mode theme something you'd still love to keep on your iPhone or iPad?