Being an irokotv app user, you are often stuck with having to use, watch Movies and TV series on a mobile device. The only supported platforms being android and iOS.
The experience watching movies and tv shows on a bigger screen, in this case, television, cannot be compared to that of a mobile phone.
Being able to enjoy those IROKOtv movies on a Television gives room for a much bigger audience and a better viewing experience. Think of family time.
Over the months of having an active subscription on the irokotv service, I've always imagined being able to watch those interesting movies on a television screen rather than being limited to a mobile device.
Thankfully, I've been able to achieve that. Not to worry, I will be sharing with you here, how I am able to do it. Like, every detail. I am that generous ?.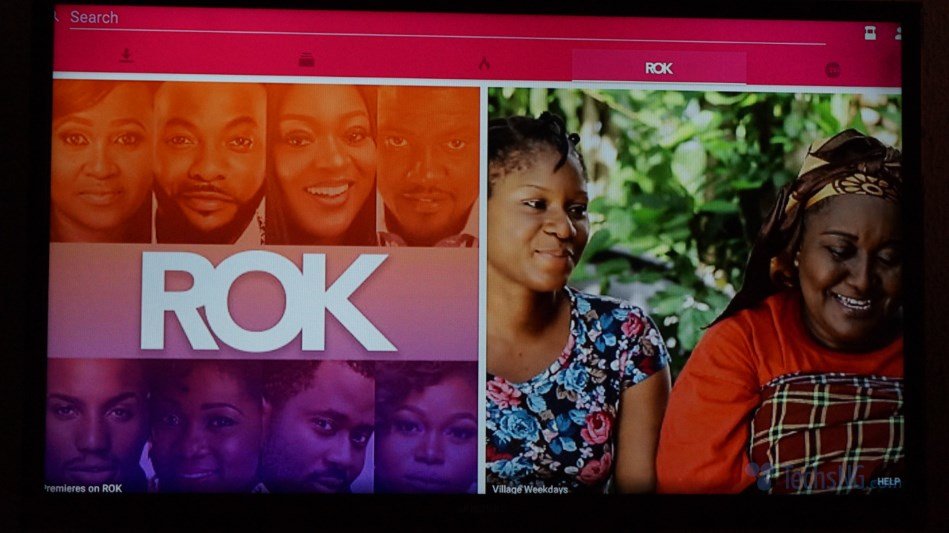 Literally every well-known media streaming service have an option to watch on a bigger screen. OK, not every one of them. But, you get the drift, right?
The most known being Netflix, supports different platforms. Smart TVs, TV boxes, Gaming consoles, even PlayStation 4 users can watch movies on Netflix right on their PS4 consoles being connected to their television.
Related: How To Continue Using Spotify On PS4 In Nigeria After 14 Days Trial
The same for popcorn Time, twitch, crack and a few others.
In the case of irokotv, it seemed almost impossible.
The service does have a channel on DSTV and startimes. That way, you can get to watch those movies but, I am making reference to the app, not the channel.
Being able to download, install, use and watch irokotv app Movies and TV shows on TV here doesn't entail using a smart TV. Although with the steps below, you'd be able to enjoy it on your smart TV, I'm actually making reference to your regular television set.
What that means is, this should be able to work on any TV set as long as it's got provision for HDMI cable.
Guess I shouldn't ramble too much and cut to the chase, right?
How To Watch IrokoTV App Movies and TV Series On Your Television
It's simple. In my case, I simply employ the services of a TV box. An android TV box to be precise. But, it's not as easy as I've just said it.
Since the app only supports Android and iOS currently, the only logical way is to have the app run on an android compatible device which also works with Television sets. And that's where the android TV box comes to play.
Currently, I have two android TV boxes waiting to be reviewed; A Xiaomi Mi Box and a X96 mini.
On my YouTube channel, I did unbox the Xiaomi TV box. I just haven't really put up a comprehensive review yet. I should soon and same goes for the X96mini. If you want, you can watch the unboxing and quick set up guide for the Xiami Mi Box below.
Testing this trick out on both TV boxes, I had issues with the app on the mi box. Although the app did install and i was able to log in, it just keeps closing automatically.
However, it worked conveniently with the X96 mini . Although there are a few glitches here and there, it serves the main purpose – being able to watch movies and TV shows using irokotv app on Television.
Owing to the fact that I couldn't really use the app on the Xiaomi Mi box, I guess it wouldn't make sense to write on how I was able to download and install the app on the device, right? If you feel that's something you still'd be interested in, do let me know and I will try to put up a tutorial.
Since I was able to perform the main subject of this post on the X96 mini box, that's the case study I'd be using for this tutorial.
Which Android TV Box To Use and Where To Buy?
To be sure you are on the right part, I would advise you buy the TV box from gearbest. This is the direct link to the product page.
As a point of reference, this is what the android tv box looks like. Yes, it's that small.
The Reason why I recommend getting that exact one, is because that is exactly the same product I got and yes, I got it from gearbest.
Never heard of gearbest or skeptical about buying from them? This post should satisfy your curiosity.
If you wouldn't mind paying higher and getting it here in Nigeria, this is the same product on Jumia. As earlier mentioned, i got mine form GearBest.
If in the future, I get to try out a different TV box and it works fine, I will probably update this post and recommend that as well.
How To Download IrokoTV App On Television
Since we cannot download the app directly on a TV, we will be using a middle man; the TV box.
Step #1: Turn on the X96 mini and have it connected to your TV using the HDMI.
A HDMI cable comes with the box. You can use that or any other one within reach.
Step #2: When it fully loads up, launch the Google Play Store App.
Step #3: Scroll up to the search bar and type in irokotv.
If the directional buttons on the remote control do not allow you to get to the search bar, switch to the mouse (cursor) control option.
To do that, simply tap on the mouse icon button on the remote control. Follow the image below for better understanding.
You should also get familiar with this as you will need to understand how to toggle between directional and mouse control. Both come in handy for a better experience with the x96mini.
Step #4: When the IROKOtv app displays, choose to install.
You will likely be requested to grant permission, just choose OK. And download should begin afterwards.
How To Install?
When the download is complete, you will receive a prompt to either install or Done. You should choose install.
Wait a few seconds and the app should be installed. You can thereafter, choose the open option.
How To Use?
Since the app isn't programmed for television usage, glitches are expected. However, they can be curbed.
Upon launching the app, the app would show up in a portrait mode rather than full screen.
At this point, you cannot use the directional control. Hence, you should switch to mouse control and work with that.
Input your log in details as you would on the mobile app. A code will be sent to your phone which you are to key in. I'm sure you can find your way from there.
A Few Things To Note
For the most part, you'd have to use the mouse control in navigating around the app menus and options.
Scrolling through list of movies isn't feasible. I haven't been able to discover how.
However, what I often do is, using the app on my phone, I search for movies or TV series, take note of the title, search for the movie on the TV box (that works) and download.
In most cases, you need internet connection to not only download, but also get past verification process (if presented). This isn't an issue with the TV box instead, it's that of the irokotv app or service.
To delete a movie, you have to apply a bit of imagination. By that, you have to move your cursor to the option button located at the right side of the screen. It's inline with the movie title. The image below should give you a better understanding of what i am trying to communicate.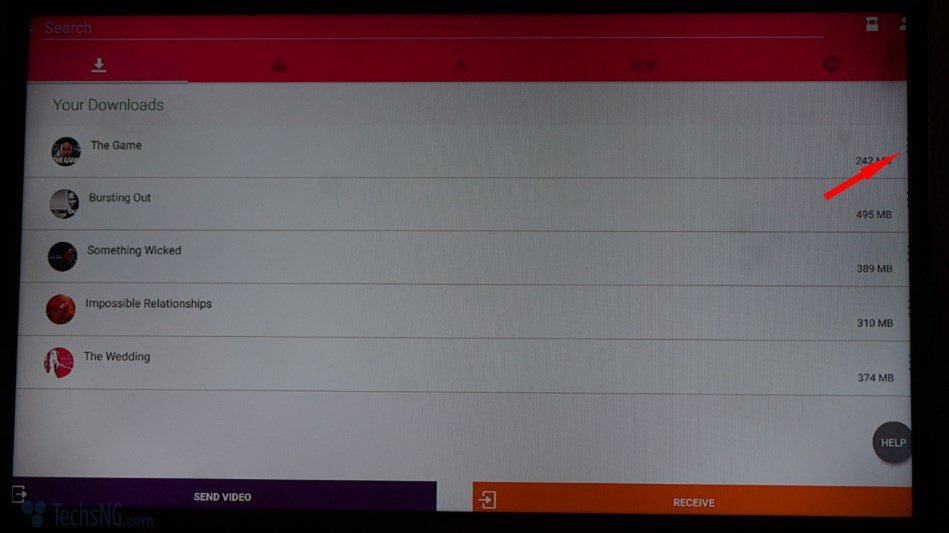 This buttons are not very visible, they are there. Where you think it's located, tap on it and choose the delete option.
Related: Stremio: A valuable Alternative to Kodi
I guess that's all that needs to be covered regarding being able to download, install, use and watch irokotv app movies on television.
If you think I missed out something, do not hesitate to bring it to my notice using the comment session. I often reply as soon as I can.