Neptune Rising Addon is one of the best Kodi addons for streaming of TV shows and Movies. Over the years, the Add-on has heard that position and even to the time of writing this content, it still holds the position as one of the best add-ons for streaming movies and tv shows on kodi.
By now, Kodi needs no formal introduction. More tutorials on the subject matter will be shared soonest. For now, I've shared an awesome alternative to Kodi being Stremio. If you missed out on that, you should check it out HERE.
Running a search online for the best Kodi Addon in 2018, Neptune Rising will most definitely be on that list.
Upon having Kodi installed on your computer, Android Phone or android TV Box, there are a lot of Addon repository to choose from. A lot that it gets confusing on which to install and which to do away with.
Searching through the Addon repository on Kodi, you will most likely not find the Neptune Rising add-on there. You have to import it and thereafter, install it.
I was able to conveniently do this on the Xiaomi Mi Box which is an Android TV box and here, I will be guiding you on how to install the add-on your Kodi.
The fact that I was able to do it on the android TV box doesn't mean it wouldn't work on other devices. As long as the device is able to install Kodi and has got internet connection, you should be able to install and run the add-on.
Disclaimer: TechsNG is a tutorial intensive blog and as such, we strive to post tutorials on subjects we think may interest readers. TechsNG do NOT support copyright infringement. Kodi should be used for the sole purpose of what it's built for. TechsNG is just here to make the experience better.
The Neptune Rising add-on is strictly for movies and TV shows. Hence, if streaming movies and TV shows online is your thing, join me as we both install the add-on on Kodi.
How To Install Neptune Rising Add-on On Kodi
To be clear, Neptune Rising is a Kodi video add-on from Blamo repository. Using the add-on, you'd get movies and TV shows in a nice layout.
The Repository URL has been updated and will be reflected in this post. Before now, the OLD repo URL used to be http://blamo.teverz.com but that's no longer valid. The new URL will be stated below.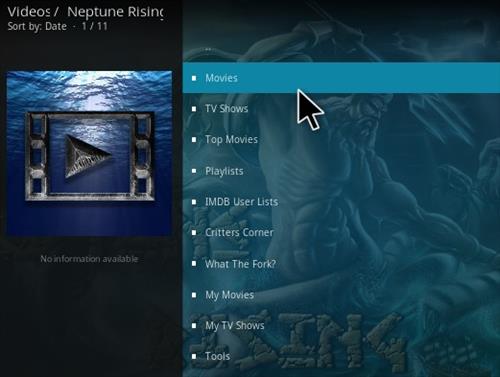 If you care so much about privacy and Geo-restriction (which I think you should), you should consider using a VPN. I would recommend you use pureVPN (full details here) which doesn't throttle your speed, has multiple high-speed servers and protects your privacy while using Kodi.
Steps To Install Neptune Rising Movie Streaming Add-on For Kodi
Launch the Kodi app on your android phone, android TV box or Computer,
At the top left side of the page, tap on the System Settings icon (as indicated in the image below).
Under settings, tap on File Manager 
On the left side, tap on Add Source
Next, tap on the option which states None.
Enter this URL: http://repo.mrblamo.xyz and tap on OK
In the next box which states "Enter a name for this media source", input Blamo as the name and tap on OK.
Properly cross-check to be sure everything is correct. After confirming all details to be inline with the details above, tap on OK.
Now, return back to the main menu and tap on Add-ons.
Next, on the top left side of the screen, tap on the Package Installer icon (indicated in the image below).
Amidst the options displayed, tap on Install from zip file
A box will be displayed with options. Here, you should select Blamo
Next, tap on repository. blamo-0.0.5.zip
Wait a few seconds till a pop up notification is displayed stating that Blamo Repo add-on is installed.
Now tap on Install from repository
Tap on Blamo Repo
In the next screen, Tap on Video Ons
Tap on Neptune Rising
Choose to install by tapping on the install option and the Neptune Rising Add-on should be installed on Kodi.
Go back to the add-on page, select Video add-ons and you should find Neptune Rising displayed.
Tap on it to launch and in a few seconds (depending on your internet connection speed), the menus should be displayed. There in, you should be able to stream and watch your favorite movies and TV shows.
Other Movies and TV shows Streaming Services
Speaking of favorite movies and TV shows, there are a few other platforms you can use other than Kodi. There's showbox and bobbymovie (more details here). On those platforms, you can also download your favorite movies and TV shows.
Speaking of downloading TV shows and movies, there are other platforms you could find compressed versions of movies and TV shows downloads. If you are on a limited data plan, this is advised. There are Fzmovies (more details here), coolmoviez (details here), o2tvseries (details here) and more.
If Kodi is your thing, then you've got Neptune Rising Add-on. Information on how to install more useful and interesting Addons will be shared in due time. Questions? Feel free to ask using the comment session.