Are you tired of people just being able to access your photos and videos and you wish there were apps to lock those photos and videos from intruders?
I get it! It's really tiring. You drop your phone this minute and the next minute, they are scrapping through.
Or perhaps, you showed them a particular phone number and the next minute, they are scrolling through your photos and videos. Sucks, yeah? I know!
Especially if you are the type who likes his or her privacy when it comes to phone files. You don't want them snooping through your gallery files, right?
Thankfully, there are Android apps to lock photos and videos from intruders. These apps are valid in 2018 and they are what this post is about.
On iPhone, being able to lock a particular app is easy. This is doable using the guided feature trick. For some Android phones, the OEM tend to incorporate this feature in the OS.
Example is the xhide feature on infinix phones. The xhide feature allows users hide apps on the phone. There is also the option to lock apps using fingerprint scanner.
But, what if your phone doesn't come with this functionality? There are apps on the Google play store for it. Some of the best, I will be introducing to you here.
Best Android Apps To Lock Photos and Videos On Android in 2018
There are quite a number of apps on the Google Play store promising to do these features. However, some of them just don't work.
Some work but in return, presents issues you can't handle. Others are often paid. For this reason, I have decided to write on the best 8 free Android Apps To Lock Photos and Videos on Android in 2018.
Perhaps one of the most known multimedia hiding app on the play store. The app currently has over 100 million active installs. Of course, that's a pretty huge milestone.
There are different locking options with the app lock app. You can protect desired photos and videos and lock them within the app lock app.
The locking options are basically PIN, password or pattern. Not only can you lock pictures and videos, you can also lock apps.
Essentially, the app works in same manner as the xhide app does. Remember though, xhide is what infinix calls it. The xhide app is not available in the play store.
A less popular one with 10 million downloads compared to the app lock mentioned above, is the smart app lock app.
On the Google play store, the name has been changed to App lock Fingerprint. The app basically protect your privacy and lock app with password and fingerprint.
If you happen to use a smart phone in 2018 with fingerprint feature, you can't go wrong with this one.
Other than locking, the app can catch intruders by taking a picture. The picture will be sent to the registered email. That way, you get a clue as to who tried unlocking your phone.
The earlier two apps mentioned above, do not only hide pictures and videos but also apps.
Gallery lock (hide pictures) on the other hand, as the name has it, locks basically pictures and videos.
With over 10 million downloads, this is perhaps, one of the best free Android apps to lock pictures and videos from intruders.
Just like the second app above, after 3rd failed password attempt, built-in camera takes a photo of the intruder and have it sent to the registered email address. There is also an option to back up the files to the cloud. Precisely google drive, Dropbox and box.
If you have been following this blog for a while now, you'd have realized I have once published a detailed review on the Clean Master app. Not really a good one, to be honest.
However, the app does have a good side. And that's the lock apps feature. The app itself is a security app and as such, comes equipped with loads of security features.
With the app lock feature being part of the package, you can lock photos and videos as well as apps from third-party users. The security feature comes with fingerprint lock, applock intruder selfie and private chats hiding.
Just as the number 3 lock app mentioned above, this is dedicated to basically media files.
As you know, media files typically consist of pictures and videos. In need of an app to protect these files? That's where safe gallery free (media lock) app comes to play.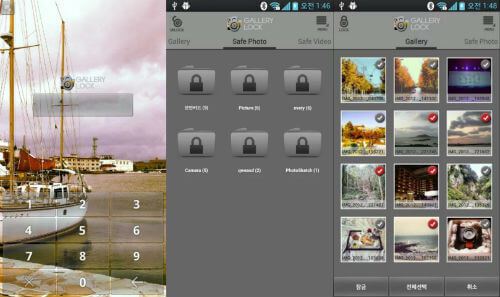 The app not only does file protection, but tend to show all audio files on your phone. Via the Android app, you can also manage the audio files.
Screen lock type for protected multimedia files includes PINs, Password, pattern and fingerprint.
This is a rather different app. With over 5 million installs, it is safe to classify this app as a relatively popular one.
The folder lock app provides much-needed features like password protection of photos and videos, secured wallets, data recovery, decoy mode, stealth mode, hack attempt, monitoring and more.
Being able to switch to other apps with just a flick or shake or by keeping your palm on the screen. You can also protect your audio files from being discovered by third-parties.
With about 1 million download so far, this is an app that is gradually growing. Growing well, I should add.
Technically, app hider is an android app that allows you hide apps. Not only apps, photos and videos can be hidden using the Android app. The app also does not require root privilege to work despite all it's bringing to the table.
Last but not the least in our list of best free Android apps to lock pictures and videos, is the photo and video locker app.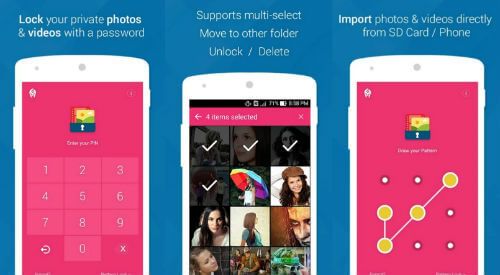 As the name implies, this is an app targeted for photos and videos. The app protects and secures these kind of files. Not just that, they can also protect your apps from snooping eyes.
There is also document lock feature which helps you hide your most important and personal documents such as bank documents, company documents, presentations, bills and the likes.
Wrapping Up
Having to password lock or protect your photos, videos, apps and documents isn't for everyone.
For the most part, you are fine with simply placing a password on your phone. As a matter of fact, using a password on your phone is on our first 5 things to do after buying a phone list.
That way, should the phone be stolen, hard resetting the phone will be the only option left. Factory resetting or flashing as it is formerly called, wipes the phone as well as your photos and videos.
However, if you want to be extra careful with these files (think of it as an additional layer of security), using lock apps like the ones mentioned above, can be necessary.
Remember you shouldn't install more than one. Choose the best and work with that.
Hope this guide answers your query in regards the best free Android apps to lock pictures and videos from intruders in 2018?