Are you searching for the best websites to read comic books online for free? Perhaps, you are in need of precisely verified websites to download or read Comics online for free in 2018? Then, this post is for you.
Here In, I will be disclosing a few websites that will aid you in your quest to enjoying online comics without the need to visit a local bookstore.
By verified, I am making reference to the websites being mentioned on this post, verified or confirmed for free comics online. I have personally gone through them and as at when publishing this post, they are valid in regards to what your quest in. Hence, I urge you to take the time out and properly read through all that is being mentioned here.
Before then, let me say this. There was a time when comic books was the order of the day. I was a fan. Quite a huge fan at that. I had a friend who often comes up with these books. I mean, he literally draws the characters, inscribe the words and sort. He was good at it. And yes, he is an artist.
Over time, people's taste seem to have changed. Every one seem to be more interested in actual movies than comics. But here the thing. Some of the action movies presented by marvel and DC in today's movies, are actually in the comics.
As a matter of fact, Marvel still sells comic books online via its book store. While it's totally okay for you to purchase them, they can actually be gotten for free on some websites. Precisely the ones you'd be getting to, soon.
Point is, comics ain't absolute. Quite a handful of people still search for websites to read comics online for free. Others choose to buy.
Hence, for this reason, I'd like to help you with your research. Here, I will be talking of a few sites to read comic books online got free. If you want, you can also download some of these free comics online for free.
Verified Websites To Read Comics Online For Free
Again, there are quite a handful of websites on the internet offering you free comic books to read. However, a huge chuck seem to be time wasters. For this reason, I have compiled a list of the best websites to read comics online.
Without without ado, here are the best websites to read Comics online for free. I saved the best for the last :D.
1. Comic Castle
Comic Castle is another website comic book readers should have on their radar. The platform has a huge catalog of comic books and tend to post updates quite frequently.
As at the time of publishing this, the latest comic added was only about 2 days ago. The website also displays the 100 latest comics on the homepage. That way, you can navigate through the latest comics and choose to explore.
2. View Comic
View comic is another interesting website for comic books. I find using view comic more intuitive compared to using comic castle.
On the homepage, you will clearly find the latest updates. This is said to be updated weekly.
Upon tapping or clicking on any of the book you'd like to read, the graphics fit properly into your mobile, tablet or desktop display. If you want, you can choose to download the pictures and have them saved on your phone for offline viewing.
3. Hello Comics
Being well known in the industry, hello comics is a blog that tend to provide blog posts defined on comic scenes.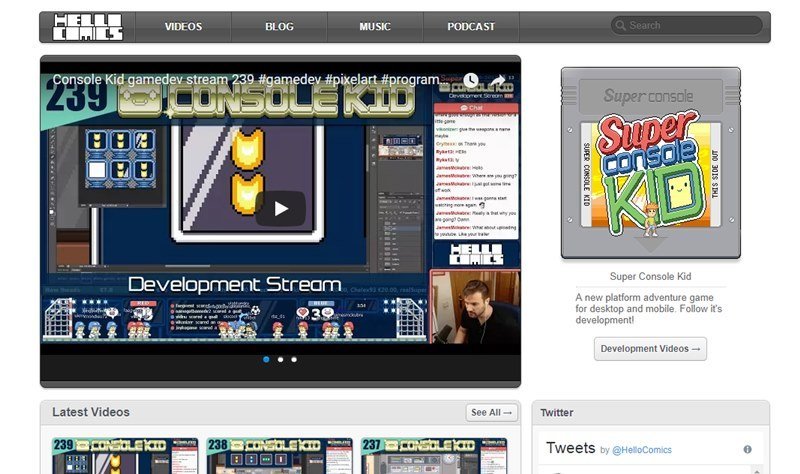 Not only does the website allows you catch up on comic books issues of DC and Marvel comics, the platform also provide videos and audio books relating to the subject.
Visit HelloComics.com
4. View-Comic
This is different from the previous view comic website mentioned. What's the difference? Look properly at the names. This has an hyphen between the view and the comic while the former doesn't. However, they both offer the same service.
View-comic is also updated very frequently. As at when writing this content, the Latest comic story on the website was published June 17, 2018.
There is also a search box noticeably displayed on the website. That way, you can search for a comic story if you have one in mind. You can also select chapters from the very beginning.
5. Get Comics
Get comics seem designed for computer but, it does work well for mobile as well. For the most part, I used a mobile phone I checking through these websites. So, these lists of free comics websites are mobile optimized.
Get Comics has something different from what the others listed above, offers. What's that? The categories. You can choose to read Comics Online, read DC Comics, Marvel Comics, other comics, search and a whole lot more.
The only downside is, unlike the others, you can not read comics on this website online. Instead, you'd have to download. This however, shouldn't be much of a problem if you have nothing to worry about copyrights. Size can be quite large too. For Tony Stark – Iron Man (2018), it's about 60MB in size.
6. Comic Happy
Comic happy is another website where you can read comics online for free. Precisely Marvel and DC comics. The site administrator says comics are added every Wednesday and Thursday.
Just like Get comics, Comic happy does have a category which should ease you with navigation. There's marvel, DC, Deadpool and here's Negan.
Simply tap on any of the comic books you'd like to read and it will load up. Another interesting thing with this website is, you do not have to deal with ads like you would with other listed sites.
7. Read Comic Online
Readcomiconline is another website that allows you read Comics online for free. What's interesting about this website is the sorting options. That way, you can sort through the books being displayed. It is perhaps, the best in the list.
There is also a menu option displaying latest update, new comic, most popular, ongoing series, Genres, the ability to switch to desktop and also, being able to watch cartoons.
Meaning, not only do you get to read comics online on this website, you can also watch cartoon. Bare in mind though, the website does not support mini browsers like Opera mini or UCmini. Hence, you may want to consider sticking with other web browsers instead.
Visit ReadComicOnline
So, there you have it guys. Those are the best websites to read Comics online for free in 2018. Again, all mentioned websites have been confirmed to be valid in 2018.
If you have any good and also free online comic source to read or download comic books, please do not hesitate to share with us using the comment session.