This article will teach you all you need to know about Stremio as an alternative to Kodi, how to download and install Stremio Addons easily as well as the best stremio addons to install in 2018.
Stremio is another newly discovered media center application and stands as a strong rival to Kodi.
Kodi on the other hand, is a household name. If you are into internet TV programs, shows and movies, there is a huge chance you know about Kodi.
I for one, I've known Kodi for quite sometime now. However, I haven't been able to use the app as a result of its complexity or so I though. Besides, most of kodi's repository has been discontinued lately. For a first timer who typically doesn't know how the application / service works, it can be really complex.
I have known Kodi for years now and only got to fully understand how the app works a couple of months back. In simple terms, with Kodi, you need plugins / Add-ons. Knowing the right addons to install can also be a pain in the ass.
Perhaps, in subsequent posts, I'd talk on the best Kodi addons to install and use. Hopefully, that will get you more familiar with the app and make it more interesting for you to use.
For the most part, I stream movies in high quality on showbox and bobbymovie. Thankfully, I've talked about those apps extensively on this blog.
I recently stumbled on Stremio and so far, it has been fascinating.
If you are a lover of movies and internet TV, Stremio is another app you should consider installing on your android phone.
Disclaimer: We will be discussing software developed for Stremio – which is based on open-source code. In addition, it is publicly available and free of charge. TechsNG doesn't claim any responsibility for how our readers decide to utilize the following software. Please note that we don't condone sharing pirated content and copyright infringement. TechsNG is not affiliated with the software mentioned in this article in no way. Make sure to carefully read the above-said disclaimer and ensure the proper use of the software.
How To Download Stremio
Just like Kodi, Stremio is available for download on the Google play store. Hence, there's absolutely no need to download from external sources as long as your play store app is still fully functional.
Simply launch the PlayStore App
Type Stremio in the search box
The Stremio and a beta version will be displayed. There's typically no difference between both. However, I use the standalone Stremio app version.
If you'd rather prefer a direct link to the download page on the Google play store, the file has been removed from the google play store.
If you own a firestick, follow this guide to Install Stremio on FireStick.
After installation is complete, you should open / launch the app. But just before you do that, let me say that it's much safer to register and even use the app using a VPN. This way, there is no way you can be tracked and your privacy will be more protected. I would recommend you use PureVPN for this.
You will be required to log in, create an account or use the app as a guest. I will rather advise you either log in or create an account.
The reason for this is, Stremio has a Netflix related feature I have come to appreciate. And that's the continue watching list feature.
The continue watching list is displayed when you haven't finished watching a movie or a TV show. This allows you to continue right off from where you stopped. This means you do not have to start from the very beginning whenever you resume the application and decide to watch your favorite movie or TV show. However, being able to download on the platform for offline viewing is currently not available.
If you happen to own more than one android device or perhaps, you have Stremio installed on another device (example, TV Box), you can pause watching a movie on your phone and continue watching that same movie where you stopped on your TV box. Of course, this only works when you are signed into the same account.
That's a feature that isn't available on Kodi. At least, to the best of my knowledge.
Best Stremio AddOns
Just like Kodi, you can install 3rd party addons on Stremio. These addons allow users to stream on-demand movies and TV shows for free.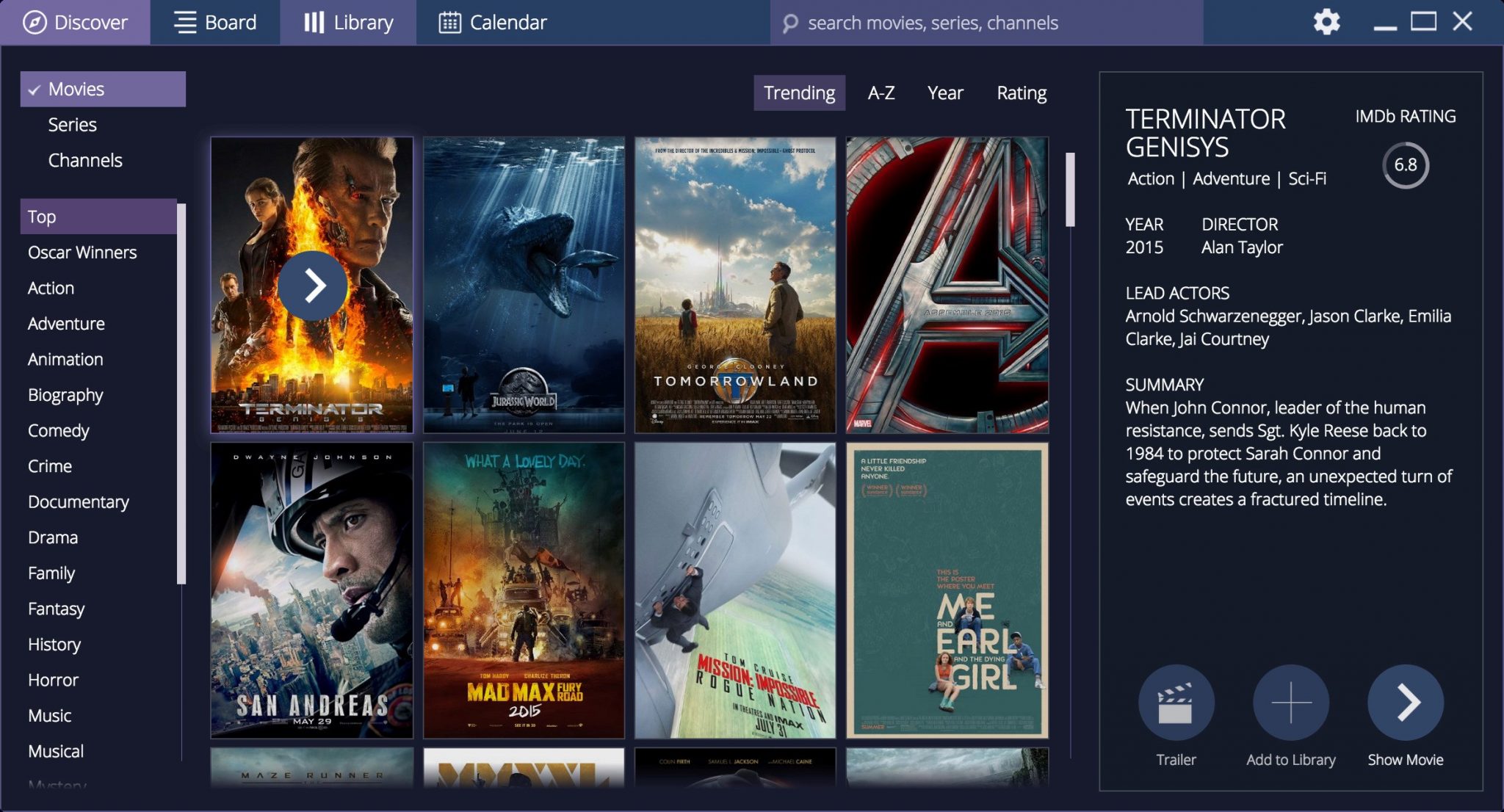 By default, the Stremio application comes out of the box with a few add-ons. These add-ons however are those of popular movie and TV show streaming services. Of course, these services require a subscription before you can watch those shows and movies.
Thankfully, with a few 3rd party add-ons, you can enjoy those movies and shows for free.
These are some of the best Stremio AddOns To Install:
Juan Carlos
Juan Carlos (The Original)
Popcorn Time
WatchHub
Film on
RARBG
Twitch
Vodo
How about we talk about a few of these Addons?
Juan Carlos (The Ordinal)
Juan Carlos is actually a torrent website. Huge movie downloaders I believe, are quite familiar with torrents. With this add-on on board, you can stream your favorite movies and TV shows directly on the Stremio app via this add-on.
It is easy to use and offers a wide selection of entertainment option.
Popcorn Time
This is kinda similar to the first. It's also a torrent website. The popcorn time Stremio addon allows you stream movies and TV shows from torrent sites such as EZTV and YTS. There is often different options available in terms of streaming quality.
WatchHub
With the WatchHub add-on, you will be able to stream TV shows and movies from a wide variety of providers. These providers includes the likes of HBO, Hulu and Amazon.
This addon can also allow you access content from HBO. It is a solution that gives you access to US and UK-based services. If you happen to be outside those stated countries, it's necessary you use a recommended VPN. More details on that below.
RARBG
This happens to be one of my favorite. Reason being that, it seem pretty updated compared to a few others. This addon allows you stream contents from its torrent website and often display content in different quality.
Speaking of quality, we are making reference to 2180p (if available), 1080p, 720p and SD (standard definition). Of course, these content video qualities being displayed depends on the particular content being searched.
How To Install Stremio Add-ons
Installation is pretty quick and easy. You do not have to install these addons on different devices you have Stremio app installed on. This is because, these addons when installed, are installed online on your account.
Hence, installing them on your android phone, makes them available on your computer or TV box whenever you log into your account.
Step #1: Make sure you are logged into your account on the app.
Step #2: Tap on the gear icon which signifies settings.
Tap on Addons. Therein, you should find some addons you can install. Simply tap on the Install option and that is done.
If you want to download 3rd party add ons, visit this site using any browser of your choice, tap on the Addon link you'd like to download.
Tap on Install Add-on and you should automatically be redirected to the app. Choose to install and viola, you are done.
If you have questions in regards to Stremio and its add ons, please feel free to use the comment session down below.