In 2017, what makes a smartphone worth buying? Up to date specs, price point and in this current age, branding, right?
The Tecno Phantom 8 was launched a couple of weeks back and since then, I've been trying to get my hands on the device so I can share a comprehensive review for you guys but all to no avail.
Regardless, I have decided to share my opinion on the Tecno Phantom 8 based on it's specifications, reviews and videos I have come across.
Hopefully, should I eventually get my hands on a unit, I could put up an updated extensive review of the smartphone.
Tecno Phantom 8 Review
Just to be clear, everything stated here and in the video below is totally my opinion and isn't supposed to discredit the brand or the smartphone. This is me being as honest as i can possibly be.
For convenience sake, this post is going to be limited in pictures. If you are interested in seeing more exclusive pictures and videos to better convey my message, you should check out the video below. It's worth watching.
First things first, let's take a quick look at the key specifications of the Tecno Phantom 8.
Tecno Phantom 8 Key Specifications
The smartphone features a 5.7 inch display with a resolution of 1080 x 1920 pixels referred to as FHD. You get the usual MediaTek chip. Precisely An Helio P25 MediaTek octa-core processor clocked at 2.6GHz with 6GB of RAM.
What that means is, you are getting a phone that's slightly faster compared to other devices from the Tecno brand.
Other key specification includes a 64GB internal storage which can be expanded up to 2TB using external SD card. Wait, what do you need that much storage? What do you plan storing with 2TB on a smartphone? Your life history??
You also get a dual 12 megapixels + 13 megapixels back camera with auto focus accompanied by 20 megapixels front facing shooter. Android 7.0 nougat customized with HiOS under the hood and powering all of these, is a 3500mAh non removable battery.
Tecno Phantom 8 Performance Review
Now, obviously these specs ain't top notch. I mean, judging by other flagship devices in this current age. But then again, the price and the brand at this point, will determine whether or not, the device is worth buying.
For N128,000 which should be around $350 dollars or there about, do you think the device is worth buying?
I did come across a few videos pointing out the performance of the device. The Tecno Phantom 8 was paired up against the iPhone 6 Plus and the former did perform better in terms of launching apps and games. But then, the iPhone 6 Plus is a 3 year old smartphone with 1GB RAM while the phantom 8 is a 2017 smartphone with 4GB RAM.
The Phantom 8 was also paired up against the Samsung galaxy S8 plus in another video and the Galaxy S8 plus did perform better in terms of performance. Bear in mind though, the Samsung Galaxy S8 Plus runs a snapdragon chip with 4GB of RAM. Apparently, Samsung's snapdragon processor with 4GB RAM performs better.
Tecno Phantom 8 Camera Review
I also did come across a few pictures shot using the Phantom 8. And no doubt, the picture quality looks really nice and crispy. Bear in mind, the device features a dual back camera set up. A 12+13 megapixels back camera. And while this is fascinating and new on the tecno train, only one of these cameras is actually fully utilized as the main camera and as the 2x optical zoom camera.
The second camera is said to be handy only in terms of focusing. But, I'd feel skeptical about this. Based on some of the pictures seen which clearly showcases the bokeh (Pictures can be seen in the video) effect, it seems more like a software achieved effect. Some parts seem washed out courtesy of the refocusing thingy. But then again, it will really be nice to actually justify whether or not my skepticism is on point.
If picture quality is all that matters, the Tecno Phantom 8 pretty much covers that angle.
Tecno Phantom 8 Alternative
In my opinion, for that same price range, you can get a UK used Samsung Galaxy S7 Edge which comes with a way much better display (we are talking 5.5inch Super AMOLED display with Quad HD resolution here).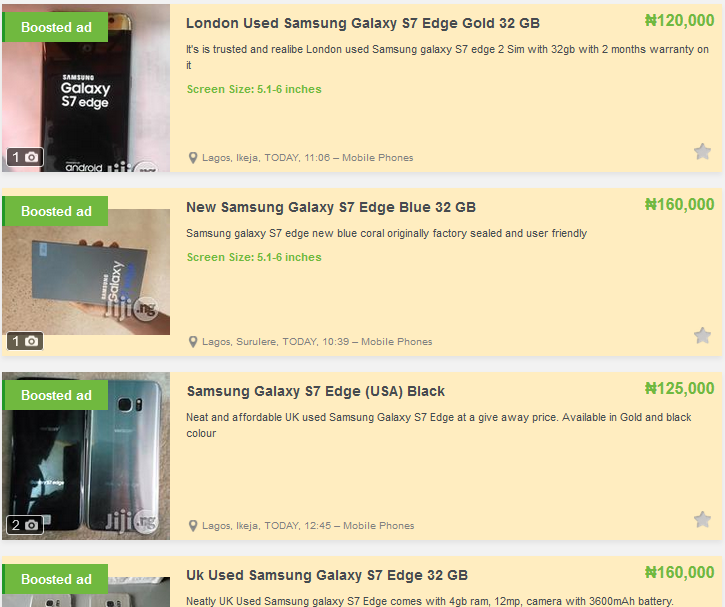 You also get loads of other cool attractions like the corning Gorilla Glass 4 screen protection, curved edge display which I really fancy, a snapdragon processor with 4GB of RAM. The Galaxy S7 Edge is also IP68 certified which means you shouldn't be scared of your phone falling into water. You also get the chance to record videos in 4K unlike the Phantom 8 which limits you to 1080p.
You are also gonna be getting a slightly better battery, a 3600mAh battery to be precise. Although there is a slight reduction in the megapixel count, megapixel count doesn't always translate to better images. The censor being used is what counts. It will be nice to actually stack up the Tecno Phantom 8 against the Samsung Galaxy S7 Edge in the camera department. Here are some samples shots taken on the Galaxy S7 Edge.
A little addition though, you are getting wireless charging on the Galaxy S7 Edge. This isn't available on the Phantom 8.
Conclusion
Again, this is where branding comes to play. You obviously cannot compare a Samsung device to a Tecno device and I wouldn't wanna go about why. But just to give you an insight, the Galaxy S7 Edge launched with Android marshmallow OS and can currently be upgraded to Android Nougat. The device will most definitely be eligible for Android Oreo when it becomes globally available. And there is a chance of the device getting the Android P (hopefully) next year.
In the case of the Tecno Phantom 8, the smartphone ships with Android Nougat and could get the Oreo update when it becomes globally available. However, there is a huge chance the device won't get the Android P update hopefully next year.
But then again, this is just my opinion. My opinion may change should I get the chance to extensively play and compare the phone against others. But for now, I'd rather save my N128,000.
Over to you, what do you think? Based on the specs, price and brand awareness, would you consider the Tecno Phantom 8 a buy or a skip?