2017 is a year of Bezel-less smartphones. We've seen a couple of brands launch premium priced bezel-less smartphones. Likes of Apple with the iPhone X, Samsung with the Galaxy S8 (Infinity display) and the Note 8 and a couple others. All these, come with a premium price. We look forward to seeing what 2018 brings. Maybe Modula designed smartphones.
Thankfully, you can still get the bezel-less experience for a budget price. The VKworld Mix Plus happens to be one of those. The $100 VKWorld Mix Plus bezel-less smartphone has been with me for a while now and here is my full review, of the device.
VKWorld Mix Plus Review
First off, let's take a quick look, at the key specifications of the Smartphone. Just before that, everything contained here and more, can be seen in the video below. Therefore, please endeavour to watch the video. It's worth it.
VKWorld Mix Plus Specifications
The VKworld Mix Plus features a 5.5inch 2.5D Arc display with 720p resolution. The device is powered by a MediaTek MT6737 octa-core processor clocked at 1.3GHz. Packs 3GB RAM storage with 32GB internal storage which is expandable using SD cards. Features 13 megapixels back camera accompanied by 8 megapixels front facing shooter. Powering all of these, is a 2850mAh battery. And of course, this phone is 4G LTE enabled.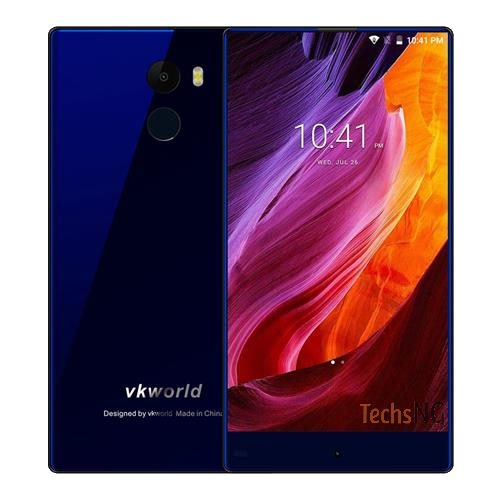 In a more easier to read format, here are the key specs of the budget smartphone.
Display: 5.5 inch, 1280 x 720 Pixel 2.5D Arc screen
CPU: MTK6737 Quad Core 1.3GHz
System: Android 7.0
Memory: 3GB RAM + 32GB ROM
Camera: 5.0MP ( SW 8.0MP ) front camera + 8.0MP ( SW 13.0MP ) back camera
Sensor: Fingerprint Scanner, Gravity Sensor, Proximity Sensor
SIM Card: dual SIM dual standby. Micro + Nano SIM
Feature: GPS, A-GPS
Bluetooth: 4.0
Network:
2G: GSM 850/900/1800/1900MHz
3G: WCDMA 850/900/2100MHz
4G: FDD-LTE 800/900/1800/2100/2600MHz
Having cleared the specs out of the way, let's look at the design.
VKWorld Mix Plus Design
VKworld did really well with the smartphone design. It has this nicely trimmed sides and the back is actually glass. It's said to be gorilla glass 3 protected at the front and back which means, the device is resistant to easy scratches and cracks.
The fact that it's all glass makes it beautiful but yet, fragile. The device can also be a fingerprint magnet. Hence, you may want to consider using the case which comes with the device if you've got slippery hands. You certainly do not want to mistakenly have the design slip off your hands and hit the ground.
But in all, I really love the design of the device. And for around a $100 price tag, the VKworld Mix Plus in the design department, gets a 8/10 rating from me.
Display
Another thing I like about the smartphone, is the display. The device features a 5.5inch 2.5D arc display with 1280 x 720 Pixel (720p) resolution which is actually HD. However, the display quality on this guy, beats the HD quality display on other smartphones I've used in recent times.
The colors pop out really nice for an HD display and the color saturation feels right. I really do love the display quality on the device and everyone I've shown the device to, feels the same way.
The almost bezel-less display adds an extra touch to the Mix. Again, for around a $100, the VKworld Mix Plus, gets a good rating from me in the display department.
Although not related to the display, I'd like to touch down on the sim placement. The VKWorld Mix plus SIM supports the use of a microSIM and a Nano sim. Both can work together with the SD card tray positioned beneath the sim tray.
What that means is, you can use two sims on the phone and at the same time, use an SD card. All in one tray. I find that to be really cool compared to most smartphones with almost similar hybrid placement.
VKWorld Mix Plus Performance and Gaming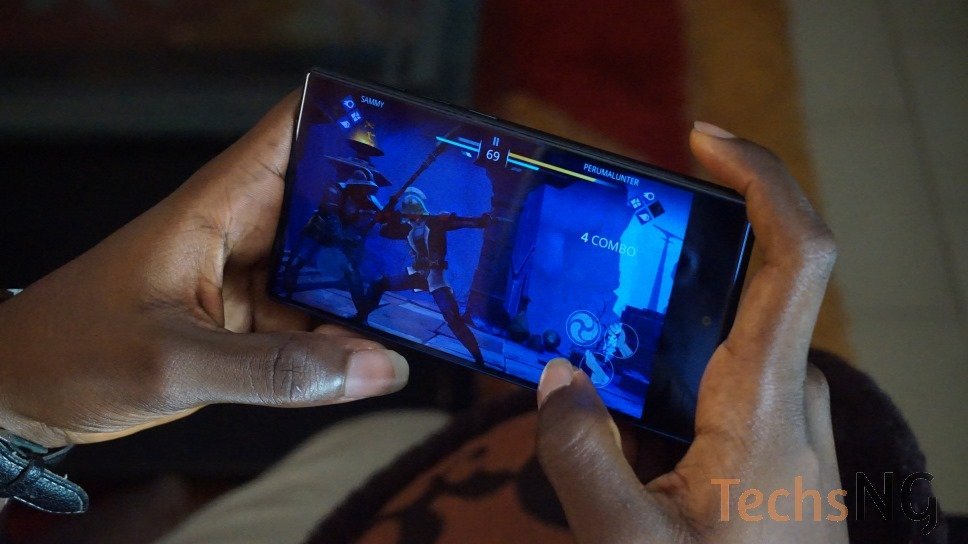 On the performance side of things, the device is powered by a MediaTek MT6737 processor clocked at 1.3GHz with 3GB RAM.
So far, performance has been fluid. I particularly haven't experienced any lag during intensive usage. However, there are times when displaying the home icons after hours of long game plays, delays a bit. Precisely about a second or so. But asides that, the device has been up to pal in regards performance.
Plus, under intensive gaming for a while, i noticed the device gets hot. This shouldn't come as a surprise as most devices do same. When left to rest, it cools off quite fast.
I played games likes Shadow Fight 3 and Mortal Kombat X on the device and no lag was experienced. Toggling between these games work all fine as well. Bare in mind though, you should only throw a few apps or games if you do not want to experience a lag.
Having too many apps in the background could cause a lag but personally, I haven't experienced any lag so far. Perhaos, because i didn't try too many apps on the device at the same time.
Security
There is also a fingerprint scanner on this guy. This basically doesn't do much other than unlocking the phone though. And in terms of speed, although decent and you would most likely be okay with it, it isn't as fast compared to that on other android devices I've used in recent times. It'd be nice to have the fingerprint scanner being able to perform other functions like scrolling through pictures and sort.
Hopefully, a software update will be able to fix this and those functionalities will be added.
Battery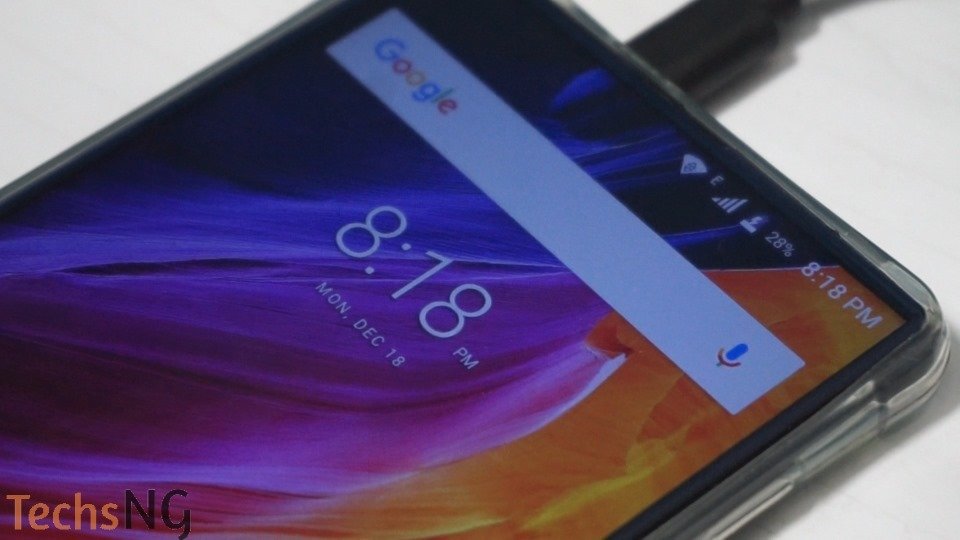 On the battery side, this is where things get a bit shaky. The VKWorld Mix Plus features a 2850mAh battery and this typically last a day under normal usage. However, under intensive usage, like gaming, the device could only last about 5 hours. Of course, by intensive use, i am making reference to non-stop gaming. Being able to last 5 hours as a result of non-stop gaming, is decent in my opinion.
There is no fast charging on this guy. Therefore, charging from 10% to 100% could take as much as 2 and half hours to 3 hours.
VKWorld Mix Plus Camera
The VKWORLD Mix Plus features 13 megapixels back camera and 8 megapixels front facing camera. The front facing camera is positioned at the bottom of the front panel courtesy of the bezel-less display element and it kinda feels awkward that I have to turn the device upside down whenever I want to take a selfie.
This felt weird at first but really, do i really have a choice here? I've got to say, taking pictures isn't that convenient from that position. It would have been better if the fingerprint scanner can be used for taking shots, but it isn't.
Thankfully, simply taking the display while the camera is on focus, takes a shot. This however, can interfere with the experience of having to manually select a focus point of an image. Using the volume buttons work too but when taking selfies, you will most likely have your fingers not reach the volume rockers.
When using the back camera, you do not have to turn the device upside down though.
Taking pictures with the device turns out good. You still get decent looking shots. This however, applies when taking shoots under well litted environment.
Shots under low lightening condition often appear washed out. Not the best you can find in the market for around a $100 but under well litted environment, pictures often come out decent.
[See video above for sample pictures in full quality]
Summary
For around a $100, you get a relatively nicely designed smartphone, radiant looking display, good battery life, fingerprint security feature, 4G LTE support, and relatively good gaming experience.
The things I do not like in the device would have to be the fact that it doesn't come equipped with fast charge, the fingerprint sensor should be programmed for taking pictures and performing a few other tasks. Other than those, the VKworld Mix Plus for it's price, is really worth buying.
So, there you have it. That is my full review of the VKWorld Mix Plus bezel-less android smartphone. Do you think i missed out something?
Let me know via the comment session below and i will respond as soon as i can. Do you think the device is worth being tagged as the best budget bezel-less smartphone in 2017 2018?