O2TvSeries have been around for a while now. The site happens to be one of the best resort for downloads of best favorite TV shows.
I understand there are quite a handful of sites to download TV series from. I will most likely be disclosing others in subsequent posts. However, in this particular post, we'd exclusively be talking on 02TVseries.com.
If you are a huge fan of TV Series, you like catching up on your favorite TV shows and sort, this is one of the best sites to go to.
Being a huge fan of Empire myself, 02TVseries is often where I head to, to download the movie if for some reason, showbox doesn't seem to have the latest episode updated yet.
Speaking of showbox, I talked exclusively on the android app HERE. For iOS users, it isn't called showbox, it's called moviebox. And here is how to download and use MovieBox on your iPhone or iPad.
Download Movie Episodes, TV series and Shows On O2TvSeries
Back to 02TvSeries.com, the site is often updated. Precisely as soon as the movie becomes available. Another interesting thing is, downloads are absolutely free.
Of course, you'd get the usual ads and sort. But, the site is well-tailored. You'd most likely, find your favorite movie series with ease. As long as it's quite known of course.
There is a search bar on the site which should aid you in easily getting your preferred TV show.
The homepage displays the recently added TV shows. If for some reason, your preferred TV show isn't displayed there, there is the list of TV series option.
The list of TV series option typically displays alphabets.
These alphabets are meant to also help you find the TV show you'd like to watch or download.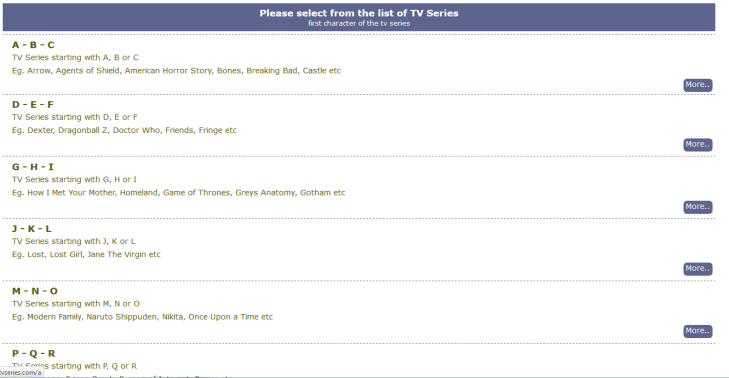 Sight for example, I want to download the latest Empire TV series. I'd have to click / tap on E. This will display all the TV shows that States with letter E.
And since Empire begins with letter E, it will display there.
For Game of Thrones, Vampire Diaries, Supernatural, Vikings and others, you'd have to use their specific starting letter.
On O2TvSeries, you can also download shows in different formats and quality. You can download TV episodes in HD, 3GP and MP4 formats.
My only issue with the site though, is the fact that downloads servers can be some sometimes. This is quite understanding though. I mean, it could be as a result of the fact that there are too many users downloading via the servers at a time.
Other than that, everything seem to be working well with the site.
How To Download TV Shows, Series and Episodes on www.O2TVseries.com with ease
First and foremost, I always recommend using opera mini for downloads from sites like this.
If some for reason, you'd prefer a different browser, you can use UCBrowser. Reason being that, these browsers tend to block pop up ads most of the time. Besides, downloading via these browsers is quite fast.
Head over to http://www.O2TVseries.com (you can copy that link, open a new tab, paste, tap Enter then come back to this tab).
If the TV show you'd like to download is shown on the recently downloaded section, great!
If otherwise, use the search box or use the alphabetical form.
When you've arrived at the TV series you'd like to download, select the season.
Using Empire as a case study, i will be downloading the season 4 which at the time of posting this article, is the current season.
When that opens, select the episode. For empire, the latest episode happens to be episode 9.
When the episode download page displays, tap on the format you'd like to download.
You can choose between MP4, HD MP4 and 3gp formats.
In a few seconds, depending on your network speed, download should commence.
If using opera mini, you can decide to directly play the movie without having to download.
There you have it. That's all you need to know regarding o2tvseries and how to download from www.o2tvseries.com.