Watching videos or movies freely on streaming and also torrent sites is one of the good things you can see on the internet, alongside watching Paid tv shows for free also.
However, you enjoy watching those videos and shows freely, but you are most vulnerable to the Noad Variance TV Adware if you have been downloading torrents and also doing a lot of live streaming.
The Noad Variance TV Adware is an adware that is rampantly used by torrent and streaming sites. However, you would be told all on the Noad Variance TV Adware and also how they get that bull crap adware out of your Computer/PC.
What is Adware?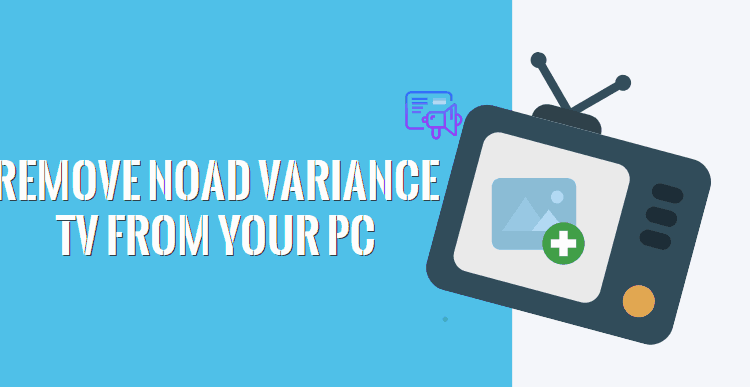 Adware can be said to be a malicious software application that randomly and automatically displays or pop-ups ads and also banners whenever a user is online.
What is the Noad Variance TV Adware?
The Noad Variance TV is a type of malicious software that extremely displays unwanted and very annoying ads (banners and pop-up ads) once it enters your computer/PC. It works at the back end of your computer/pc, which can have its way of taking your information.
The Adware displays the number of ads highly, delivering intrusive ads to the user as a means of the creator of the Adware to generate income/money. It is usually common in web browsers such as Edge, Firefox, Chrome, e.t.c, and the malware spreads.
What Does The Adware Do When it Gains Access?
Having known what the Noad Variance Tv Adware is, what does it do and whats its aim. The first impression of this malicious software wouldn't look so bad as the creator tags it as a software to help boost your internet experience, but there's a lot to that because this is a MALWARE.
When the Adware gets into your computer, it begins to spread vastly to all corners of your system, making it hard to fully detect and remove and also making it able to steal your information as you are vulnerable.
The Noad Variance TV Adware takes up your Browsing History and also swallows in your Browsing IP address, the adverts you have had engagements with previously, and also your credit card and billing information.
It totally infects your web browser and changes your settings without your permission take, redirecting you to Variance TV websites and ads, making browsing experience annoying and disgusting, which is the total opposite of what the creator of the malicious software said.
When are you Infected with the Adware How to Know?
Not so hard in detecting this Adware infection, which makes it easy for you to kick it out in no time.
When you are infected with the Variance TV Adware, your browser homepage automatically redirects to Variance TV webpage, after seeing that, Man just know say the Variance TV Adware has entered.
You cannot change back the webpage until you have totally eliminated the malware if at all you try to change the homepage, the software would simply change it back again.
Having a lot of pop-up ads and banner ads while browsing, the guy you are infected, you better play sharp and ditch out the malware fast before it ditches you out.
The Variance TV Adware ads usually have a text written on it like;
Ads by Noad Steep TV
Ads powered by Noad Steep TV
Powered by Noad steep TV
Brought to you by Noad Steep TV
If you are sensitive enough to detect having any of these encounters, the guy just knows that you are infected by the malicious software tool.
Why Did the Creator Make this Malicious Adware Tool?
You get into their sites to watch paid videos for free, and how do you expect them to generate revenue, nothing comes bro freely.
Most streaming and Torrent sites use this tool as a means of income technique by affiliate programs and also pay per click ads.
However, companies pay for their products to be advertised, and also some companies pay websites to host their advertisements.
Income and revenue only generate whenever a user clicks the ads, so each time you click on the ads, the website gains income/revenue from your click.
How to Remove the Noad Variance TV adware From Your Computer/PC
As annoying this Adware can be, don't fret because you can surely get it to remove from your system.
Simply follow these steps if you are a Windows User;
CLICK on the start menu button
Go to Control panel
Go to Uninstall/Install Programs.
Once you are there, you will see the list of all your programs.
Search for Variance TV and then uninstall that specific program.
Resetting All Web Browsers
After completely removing the Variance TV program doesn't mean you are completely free yet. You would still need to reset, refresh, and also reinstall your browser, remove all add-ons and plugins/ extensions that have a linkage with Noad Variance TV.
After that, you would have to restart your PC, and the virus/malware should be completely gone from your computer or system. After all this, please endeavor you uninstall and reinstall your browser.
Final Thoughts
Always endeavor and ensure you get a good antivirus program because they are the no.1 solution to removing the Variance TV Adware and also a lot of malicious software that tries to get entry into your system. But you would also rest the browser.