You currently have your PC (Personal Computer) connected to a WiFi Network but your browser isn't opening pages or no internet transmission? That was the situation I was in, a couple of hours back. Of course, till I figured a solution which worked out fine. A solution I'd be sharing in a bit.
In my case, I wouldn't say my browser wasn't exactly opening pages. But, visiting just one page on the browser could take about 2 to 5 minutes to open. That of course, is if it eventually does.
I understand at this point, you'd be thinking 'Oh C'mon Sammy! That was as a result of your internet connection'. Trust me, it wasn't.
Other devices connected to the WiFi network surf the internet properly. Watching online videos using my other devices was even fluid. Every other device was working perfectly except for my computer's Firefox browser who I literally have to beg every time to open just one web-page.
I use a 4G Android phone as an HotSpot device. I can see how much data is transmitted per second when I am surfing on any of my other connected device. Everything seem fine from that end.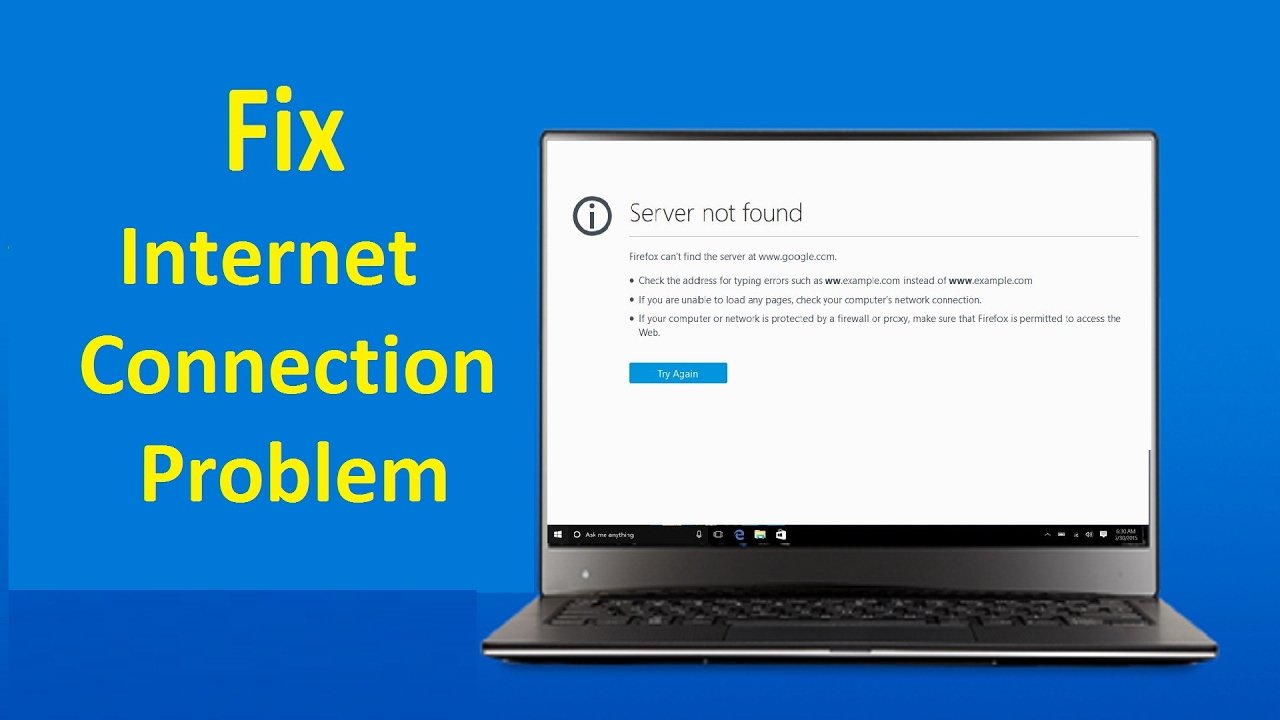 Somehow, I knew it was something with my PC. Something is definitely wrong somewhere. Hence, I had to source for solution.
Some Measures I Tried Out In Fixing My PC Computer Connected To WiFi But No Internet Transmission
First off, I had to scan my computer for any virus. Windows 10 comes with an inbuilt antivirus feature called Windows Defender.
To scan your PC using Windows Defender Antivirus System, follow the steps below:
Click on the search icon, type in

Windows Defender

.
Click on Windows Defender and tap on scan now.
Doing that, it returned no threat was found. That didn't fix the issue either.
Next, I turned off the Phone which apparently, is the source of the internet connection. Turned it back on and connected to my PC. Didn't work either.
Moving on, I had to reset the computer and reconnected to the Wi-Fi network. Still proved abortive.
It was about time I consult google. Did a few research and none worked.
I went to the computer's command prompt. Keyed in ipconfig/flushdns. The DNS was successfully flushed but yet, that didn't fix it.
Other steps includes:
Going to Control Panel > Network and Sharing Center > Change Adapter settings > right click on the adapter you're using (WiFi or LAN) and select Properties. Once there, double click on Internet Protocol Version 4 (TCP/IPv4). Verified both Obtain IP address automatically and Obtain DNS server address automatically are both selected.
Went to Control Panel > Network and Internet > view network status and tasks > change adapted settings (on the left side of the page) > right click on your main wireless network connection > click status > click Diagnose. Again, went to Control Panel > network and Internet > View network status and tasks > Change adapted settings (on the left side of the page) > Right click on your main wireless network connection > click status > click Diagnose.
Now, what's the main purpose of me talking about all the possible steps I tried? They might work for you.
I read through comments on most web-pages on the internet and the last three steps worked for them. However, it didn't work for me. So possibly, they could work for you. You just have to try.
And then I realized, the problem could be the browser, not the PC
Yes, I use Firefox browser which is undoubtedly, my best browser. Earlier on, it didn't exactly dawn on me that the problem could be the browser and not the computer itself. But of course, I wouldn't suspect because pages could still open but on a very slow pace despite surfing from a considerably fast internet connection.
So, How Exactly Did I Fix My Computer Connected To WiFi Network But Not Browsing?
I simply went to the browser network settings and tried something new.
I went to Options > Advanced > Network
Under Connection, I clicked On Settings
Under Configure proxies to access the internet, i changed it from Use system proxy settings to Auto-detect proxy settings for this network.
And voila, my browser could surf properly again. And faster, I may add.
There you have it guys. That's possibly how you can fix the issue of your computer being connected to an active WiFi connection but not browsing pages properly or not transmitting internet data. Feel free to relay your questions if any.