Have you ever thought if it's possible to download Instagram videos to your iPhone camera roll without the need for jailbreak?
Yes, it's doable and this post will show you precisely how it's done. This is a complete step by step process hence, you should take the time to read through every details.
What about IGTV? Instagram recently launched IGTV which is a platform meant to rival YouTube.
By default, only a Maximum of 1 minute video can be shared on Instagram at a time. Except of course, you intend breaking them via the bulk upload method. However, with IGTV, users can share longer videos without the need to break them into parts.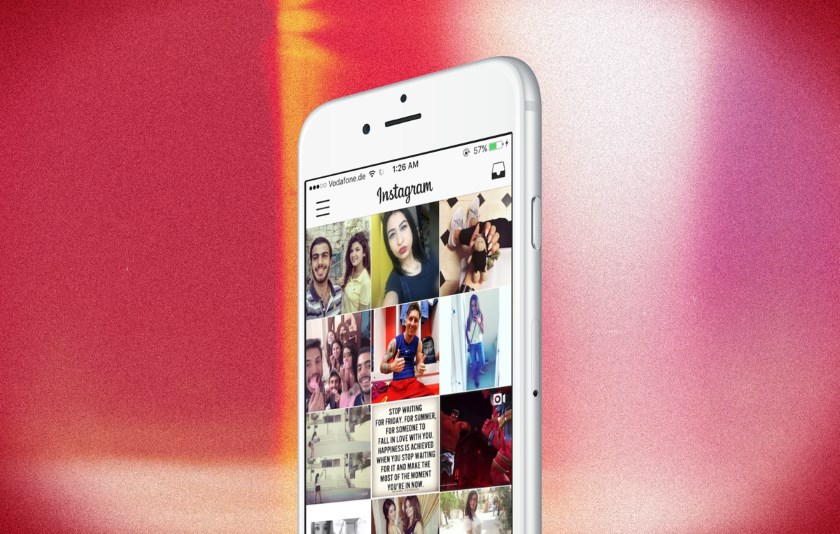 Being able to download IGTV videos to iPhone camera roll is doable and again, no jailbreak required. More on that during the course of this post.
For now, let's talk on how to download Instagram videos to your iPhone camera roll. That way, you can easily revert back to them and even share via WhatsApp status, Instagram stories, Facebook stories and the likes.
Related: How To Delete WhatsApp Status Update On iPhone
Requirements Needed To Download Instagram Videos
On iPhone, there are limitations with the types of files that can be downloaded. While downloading pictures is easy, downloading multimedia files is a bit more complex. However, this can be bypassed via the use of apps.
In perspective, these are the requirements needed to be able to download Instagram and IGTV Videos to iPhone camera roll without the need to jailbreak your iPhone.
Having gotten all those in place, let's advance to the full guide.
The aim here isn't just to download Instagram videos on iPhone, but have it saved to your photos app, preferably the camera roll, right?
Good! Let's get started.
Steps To Downloading Instagram Videos And IGTV Videos On iPhone
Process 1: Copy Instagram Video Link
For us to be successful with this, we first need to copy the link to the video. This is same process required to download pictures and videos from Instagram. Nothing weird here.
Step 1: Open the Instagram app on your iPhone. This should be the official instagram application.
Step 2: Locate the video you wish to download
Step 3. Right above the video in the right corner, tap on the ellipsis icon which indicates more. Amongst the options displayed, select copy link.
The link will be saved to your clipboard. This process is applicable to IGTV videos too. Tap on the ellipsis icon after the share icon and select Copy link.
Having copied the link to the Instagram video or IGTV video you wish to download, let's move to the next step.
Process 2: Download Instagram Videos or IGTV Videos To Your iPhone
This process actually involves downloading the Video to your iPhone before saving it to your camera roll located in the iPhone Photos app.
Step 1: Launch the downloaded DManager app on your phone
Step 2: At the address bar where it's stated search or enter website name, input www.dredown.com/instagram or search for download Instagram video and tap on the Dredownload website. Dredown does pretty well at allowing users download videos from Instagram, Facebook, vimeo and a host of other resources.
Related: How To Download MP3 Music Files On iPhone
Step 3: When the page loads up, paste the copied link in the box provided. Thereafter, tap on Dredown.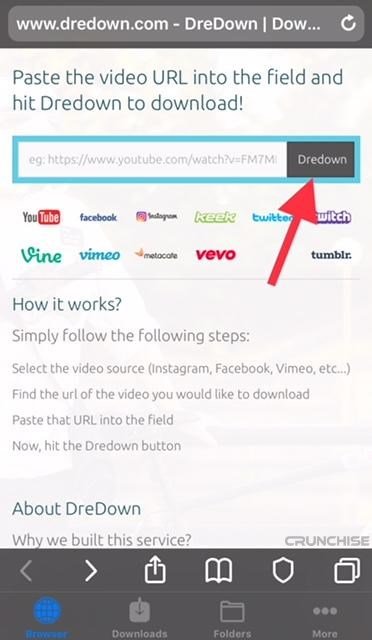 Step 4: When the video title and caption displays, tap on the MP4 download link provided.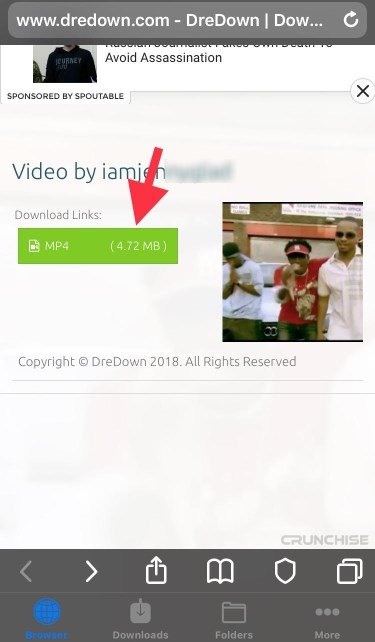 Step 5: A blank page should be displayed. Tap on the Share icon as indicated in the image below and select Download.
At this point, the download should commence. Go to the downloads tab to see the download.
When its completed, let's move on to the next and final process.
Process 3: Save The Downloaded Video To iPhone Camera Roll In Photos App
This is the final step and the simplest.
Step 1: After the download is complete, tap and hold on the downloaded file for a few seconds till options are displayed.
Step 2: Amongst the options, tap on Open in and on the next window, tap on Save Video. The save video option saves the video to the iPhone photos app.
To confirm this, launch the photos app, tap on the album tab. Under camera roll, you will find the newly saved video.
From there, it should be easier for you to share the downloaded Instagram Video on WhatsApp, telegram, facebook and other platform you wish to share it to.
The process is that simple. Other than just videos on Instagram, the same process be used in saving Instagram pictures as well as YouTube videos. You do not need your iPhone to be jailbreak-ed for this to work. Hence, no jailbreak required.
We have more iPhone related tutorials you should check out.
Read Next: How To Download Movies From FzMovies On iPhone