Being able to block numbers on mobile phones or smart phones is this time and age, is quite necessary. Not only do phones come with this feature, literally every social networking platform does.
The major reason for this, I believe, is to get rid of people who tend to overly disturb or others. People sure do have their different reasons for choosing to do this.
Unfortunately, a handful of persons do not know how to perform this simple function on their android phones.
If you happen to use a xiaomi android phone, this post will teach you in details, how to block a number or a contact from being able to reach you on your Xiaomi phone.
Although the Xiaomi Redmi Note 5A was used for this tutorial, it should be able to work on literally every xiaomi android phone.
Hence, if you happen to use a different xiaomi phone, relax, the tutorial here will work as well.
As a matter of fact, the process is quite same on most android phones. The difference however, is the steps.
If you use a tecno phone, I already covered how to perform this function HERE. If using an infinix phone, here you go.
Samsung users, I've got you covered here. How to perform same process on other related devices will be published in due time.
How To Block Numbers On Xiaomi Android Phones
Now back to Xiaomi phones, I will be showing you how to not only block, but also how to unblock contacts on these phones. That way, you won't be able to receive calls and sms text messages from the blocked contacts.
There are quite a number of ways this can be done. And on this post, I'd show you the different methods I've confirmed working.
Method #1. Block Numbers Via Call Log
This process happens to be the quickest. It's actually useful when you want to quickly block a number rather than a contact.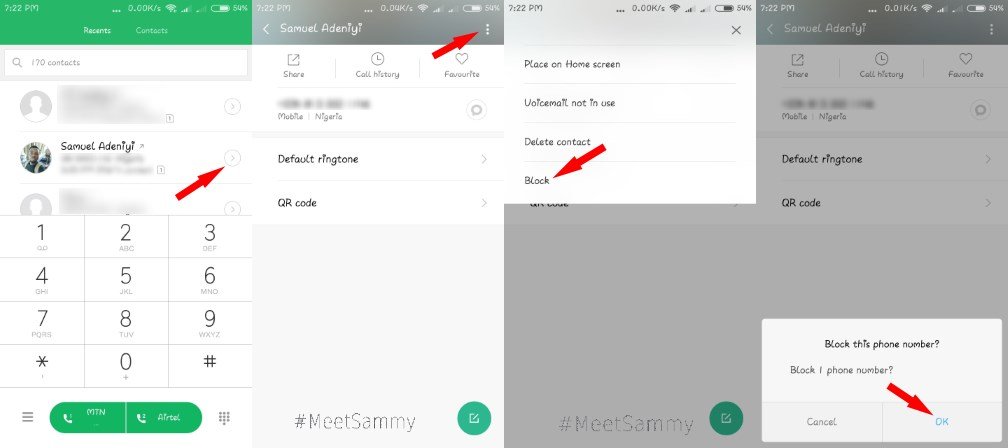 Launch the phone menu by tapping the call icon
Tap on the arrow icon inline with the caller's number (see screenshot above).
Tap on the more icon (… in vertical order)
Select block.
A prompt notification will be displayed. Tap on OK.
To unblock
Follow the same route till you get to the more option.
Amongst the options on the more menu, tap unblock.
A prompt notification will be displayed. Choose OK.
Method #2. Block Phone Numbers Via Contacts
This method involves going through the contact app. This is particularly useful if you want to block a contact and it is not on your recall call dial list.
Launch the contacts app
Search and tap on the contact you want to block
Tap on the more option (indicated in the screenshot above).
Select block.
A prompt notification will be displayed. Here, you should tap OK.
That way, the contact will be blocked from being able to reach you via calls or messages.
To unblock Via Contacts
Follow the same route and rather than block, select unblock.
Method #3. Using Truecaller app
If you've been using a mobile phone for a while now, there's a huge chance you already know about truecaller.
For those who don't, truecaller basically displays the name of contacts you didn't save. That way, it's easier to know who is calling before answering the call.
Thankfully, the app also has the option to block numbers.
Being able to block a number using truecaller is as easy as tapping on the caller's name or number and choosing block.
To unblock, follow same process and choose unblock.
Having discussed how to block contacts on xiaomi phones, how about being able to view all the blocked numbers?
How To View Blocked Numbers or Contacts on Xiaomi Android Phones
Sight for example, you've forgiven the contact and want to unblock the number. Perhaps, you do not have the person's contact neither do you know the person's number. What do you do?
Thankfully, there's a way you can view all the blocked numbers on the xiaomi phone. This way, you can return to the list and unblock the contacts or numbers.
Steps To View Block Lists On Xiaomi Phones
Tap on the call or phone icon to launch the recent dial list.
Press and hold the recent apps button for a few seconds. At this point, the call settings will be displayed.
Amongst the options, tap on block list. Therein, you'd find the sim options if using more than one sim. This however, shouldn't matter.=
Tap on blocked numbers. There, you can add, edit and remove numbers.
If you have numbers blocked on the phone, you will find the numbers there. Choose the edit option to edit the numbers, add to add new numbers to the block list, and remove to remove numbers from the block list.
Feel free to play with other call settings in that menu.
Read Next: 3 Ways To Take Screenshots On Xiaomi Android Phones
There you have it. That's how you can block and unblock numbers on xiaomi android phones.
If you have questions or comments, please leave them using the comment session. I try to reply as soon as I can.