SnapChat over the years, has proven to be a major contender against Facebook. Despite facebook incorporating the social sharing platform (as i like to call it) most sort after feature, Snapchat still holds it's ground as a unique service.
As you probably know, the social sharing platform can be very addictive. Especially for the female folks. And most often at times, these folks tend to use usernames or Display names that can be quite confusing.
Other than that, there are times when you just feel the need to assign a particular name to a particular friend on Snapchat. Perhaps, for easy recognition.
Say for example, a friend sets her snapchat's display name as 'ThaFineGirl'. Whereas, you know her to be 'Amaka'. You can simply change her name to Amaka on your SnapChat account to avoid confusing her for someone else.
Another reason as to why you may want to consider changing a friend's Display Name, could be to differentiate one contact from the other. Whatever reason it may be, I'd be showing you how to, below.
It is possible for snap-chat users to use similar display names but usernames are never the same. By default, the Display Name of the user is what you see. Not the username. You only get to see the username by tapping on the friend's name. Now, imagine having different contacts with almost similar display names. That can lead to a disaster.
Having said that, there are basically two ways you can change someone's display name on snapchat; Going through the short cut and going through the traditional method.
Don't know how? Permit me to guide you through the steps.
How To Change Friends Snapchat Display Name On iPhone
Step #1. The Short Cut Method
Launch the snapchat application on your iPhone
Tap on the chat option or swipe to the right
Next, Tap on the Snapchat Friend's name you'd like to change
Tap on the menu icon
Tap Edit Name.
Type in whatever name you'd like to assign to the snapchat user and tap on Save.
The new name will automatically be displayed as the user's display name. Of course, the username remains unchanged.
Step #2. The Friend Route
This method is typically the traditional way. Not a short cut (in my opinion).
On the snapchat home display, tap on the SnapChat logo or swipe down.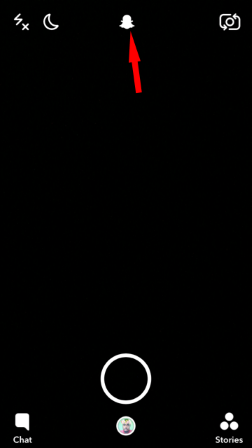 Tap on My Friends
Next, Tap on the friend whose name you'd like to edit / change,
Tap on the gear (settings) icon
Tap On Edit name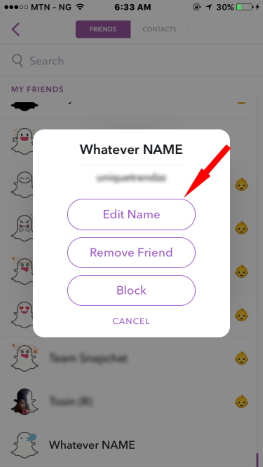 Put in whatever name you'd like and tap on Save.
Changing Someone's Display Name On SnapChat using an iPhone is that simple.
Can I Change The Friend's SnapChat Name To Default Again?
For services like BBM, simply clearly the self defined name automatically reverts the user's name to default. However, that doesn't work on Snapchat.
Hence, if you've already changed a snapchat user display name, changing back to default is impossible. Except you clearly remember what the name was initially before you changed it.
So, there you have it guys. Feel free to ask your questions in regards changing a friend's snapchat Display name, if any.