Are you interested in knowing how to download flash share application on your android, blackberry or iPhone? This post will guide you through all you need to know about flash share.
It's been a while now since I have been seeing flash share on my Tecno tablet but I haven't really experimented with it until recently. A friend's Tecno P5 has also got flashshare.
I liked the 'Angela' app on her phone and wished I could get it. She said she would transfer it via flash share to my Tecno android tablet and it worked fine as expected.
The adventure didn't end there. I loved the speed at which the file was sent. I mean, for an application of over 50MB, it was sent and received within few seconds and I could install it directly from the flash-share app.
Just as the name implies, the app do really helps in sending apps from an android device to another device in a flash manner.
Not every android phone or tablet comes with this app pre-installed. So far, I have only seen it pre-installed on some android devices like Tecno. I also needed the Angela app on my Samsung galaxy note and that was when I realized flash share didn't come pre-installed.
I search through Google Play store but the app wasn't available there which could possibly mean it wasn't available for my device. Searching for it online was the best option.
Apparently, not all android phones comes pre-installed with the flash share app. You'd possibly need to download and install the app if for example, you do not find it pre-installed on your device.
Thankfully, this post should guide you through that and even, share other options and information you need to know.
So, just before you consider having to scroll pass all this information and straight to the download link, i will urge you to take the stress of having to read all of the content contained here. There are some information for us to share, and for you to find out.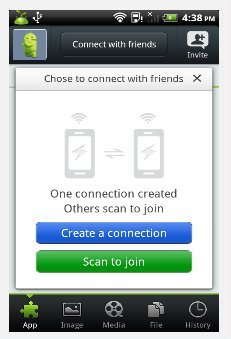 Without wasting much of your time, I have already uploaded the file on sharemobile and will be giving you the direct link here on this blog.
Sharemobile seem not to be active anymore and this has been causing issues for people who aim to download the app. Hence, we have had to upload it on another platform. This time, Dropbox.
Dropbox is a more reliable service and should be able to host the file for as long as it takes. If for any reason, the app becomes unavailable on dropbox, please be sure to alert us using the comment session rather than hitting the back button. We hugely appreciate every form of support.
You can download the Flash share APK app for Android Here.
Were you able to download the app from the link above but unable to install it? This is often as a result of the restriction on android devices. By default, android does not allow the installation of apps from unknown sources.
To be able to install the app and every other app you download from external sources outside the play store, you would need to check the option which states allow installation of apps from unknown sources. This instruction is one of the first 5 things to do after buying a new android phone.
To allow installation of apps from unknown sources on android, follow the below instructions:
Go to Settings on the android device
Scroll down and tap on Security
Toggle ON the option which states allow installation of apps from unknown sources.
After turning that on, go to the download folder on your android device. Tap on the flash share app you downloaded and choose to install. Installation should be successful this time.
You can send applications of any size, These files include mp3 music files, videos, pictures and for some devices, you can even send ringtones. I'm not sure why you should be sending ringtones though.
I mean, it's 2018. Who still uses monophonic ringtones when literally every smart phone out there, allows for mp3 songs to be used as ringtones.
To send files using flash share, the sender phone and the receiver phone, must both have flash share installed.
The sender would need to create a connection while the receiver chooses to join the connection.
After the connection is successful, both phones can now transmit files interminably. For the use of flash share, it is limited to just android.
What that means is, only android phones can use and send files between devices using flash share. Why? Please read on.
I realized people are searching for how to download flash share for iPhone. Or perhaps, how to install and use flash share on iPhone. To be clear, Flash share isn't available on iPhone – sorta.
What's available, is a closely related app which works in the same function. A much popular one i should add.
If you are using an iPhone and you are wondering how to download flash share for iPhone, you should download Xender. The Xender app is available for all platforms. By that, i mean, Xender is available for Android, iPhone, iPad, windows and even blackberry.
Hence, with the use of xender app, you can connect and thereafter, send and receive files between Android, iPhone, windows and Blackberry devices.
How To Download Xender App For iPhone, Android, Windows and Blackberry
To better ease your stress, we will be providing links to the download portals on every platform. Before then, You can download xender for android on the google play store, App store for iOS (iPhone and iPad), Windows Store for windows phone and an external source for blackberry.
As you are probably aware, Blackberry OS is no longer holding grounds. Same applies to the blackberry store.
The Blackberry store is very limited in apps and the xender app isn't available in the store. Hence, blackberry users would need to download and install the APK version of the app which works well.
Direct links to download the app on various platforms are:
How To Install and Use Xender On iPhone, Android, Blackberry and Windows Phone
Being able to install the app on these mobile operating systems is pretty simple and straight forward. Android users I believe, are good with installing apps. I mean, the process is same.
Just download the app should automatically install since it's being downloaded from the play store. Same applies to iOS users (iPhone and iPad).
I believe same applies for windows phone too. For blackberry, it's pretty easy too. Just download, choose to install (also called sideloading) and you should be good to go. More information on the easiest way to install apk apps on blackberry can be found here.
Being able to use the app on these platforms is where the trick lies. For androids, it's super easy. Launch on both android devices, the sender chooses the send option while the receiver chooses the receive option.
For Blackberry and iPhone users, if receiving from an android device, the android user needs to create a connection by choosing the send option. This will automatically create a HotSpot connection. The Blackberry or iPhone user, would then need to first, connect to the Hotspot via WiFi and thereafter, launch the xender and tap the connect option.
Thankfully, I already have a different tutorial on how to send and receive files via xender on these platforms. For iOS (iPhone or iPad) users, do check out the complete guide here. For blackberry users, here is the complete guide.
ShareIt is basically another file sharing app. Actually, there are loads of them on the playstore. These apps pretty much do the same thing, and that's sending and receiving files in flash speed. Speed that bluetooth can not compete with, even in the nearest future.
For ShareIt to work, you pretty much would need to have the shareIt app installed on both the sender phone and the receiving phone.
While the app works great, I would rather recommend you just stick to using Xender. Xender is more popular and available for download on every platform. If you happen to use a gionee smart phone, I think there is a xender for gionee app. That shouldn't bother you though. The basic xender app works just fine.
I personally think with the flash share application on every android phone and android tablet, android users can as well forget using Bluetooth and stick to a faster sharing medium.